On-The-Chain - December 31, 2018
Prediction Markets Expiring, Massive CDP Activity, & Bitcoin Transfer Worth $191M
Welcome to On-The-Chain, a focused look at the most interesting data, networks, and people pertaining to the chain and crypto economics.
---
Prediction Markets Expiring
On Augur, there is currently $351,141.03 at stake with a 3% chance of happening that the price of ETH exceeds $500 at the end of 2018. Needless to say, this market expires today.
Augur is a decentralized prediction market platform that was built on the Ethereum blockchain in 2014. In other words, one can bet on the outcome of future events for a prize. Augur allows users to both create markets and trade interest in these events.
The aforementioned prediction market was opened on July 10, 2018 at 8:12 PM, when the price of ETH was $433.84 according to WorldCoinIndex.
Here a few other price-related prediction markets closing soon:

The data above is from http://predictions.global.
The Takeaway: While there are definitely existing financial instruments (futures, etc.) to hedge cryptoasset exposure, these types of prediction markets would likely be a good way to hedge cryptoasset exposure. This prediction market could have also been used as a speculative bet. Will prediction markets develop as a reliable platform for crypto folks to hedge and speculate?
---
Massive CDP Activity
A CDP was opened with an unusually large amount of collateral, putting a spotlight on MakerDAO's stablecoin project.
CDPs allow users to lock up ETH in a smart contract and get a loan in Dai, a crypto-collateralized stablecoin, against the amount deposited.
As there is an increasing amount of decentralized finance infrastructure being built, DeFi networks are getting more and more use. There was some unusual activity over the past week or so, which started on December 22 and lasted a few days.
Check out this spike.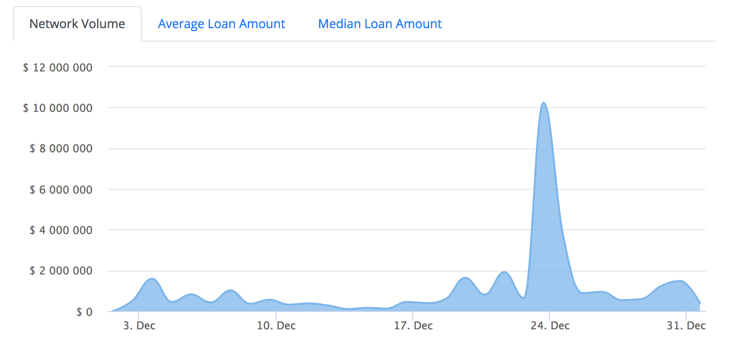 The chart above is from https://loanscan.io/.
This curious spike in MakerDAO network volume was primarily caused by CDP #5305, which was opened early on December 22, 2018.
CDP #5305 was opened with a staggering collateral amount of nearly 110,000 ETH. A week later, this CDP now features collateral of 135,958.37 ETH.
The Takeaway: It is clear what this means. Folks are becoming increasingly comfortable with CDPs, locking up massive sums of ETH for Dai. We can expect this positivity to increase further as more and varied types of collateral are enabled by Maker. Whether a CDP is being used to leverage cryptoassets or seek stability, the crypto community is exhibiting a high level of trust in MakerDAO and CDPs.
---
Bitcoin Transfer Worth $191M
Last but not least, Bitcoin worth $191M (48,500.08794805 BTC) was moved for a fee of $0.18 or 0.0000452 BTC. While this may seem trivial, it is pretty amazing that such a large sum of money can be moved for such a negligible fee.
For perspective, a merchant can barely sell you a fountain drink for fees this low.

The data above is from https://www.blockchain.com.
---
That concludes the second issue of On-The-Chain. In the coming weeks, I will be doing Q&A's with Founders, VCs, and other interesting folks. Stay tuned!
Feel free to reach out to me on Twitter. My DMs are always open. Happy New Year! Celebrate safely. A special thank you to Greg Lang and Brian Flynn!
Nothing in this email is intended to serve as financial advice. Do your own research.