On-The-Chain - March 3, 2019 - Q&A w/ Thibauld Favre of Fairmint
TUSD Uniswap Liquidity ~ 0 to 4% in <1 Week, LN Capacity Increases 30% in February, Post Upgrade Ethereum, Inaugural DeFi NYC Meetup Recap, Q&A with Thibauld Favre of Fairmint, & More
Welcome to On-The-Chain, a focused look at the most interesting data, networks, and people pertaining to the chain and crypto economics.
This issue features a Q&A with Thibauld Favre of Fairmint and the Continuous Organization whitepaper, as well as a recap of the inaugural DeFi NYC meetup.
---
TUSD Uniswap Liquidity ~0 to 4% in <1 Week
TrueUSD (TUSD), a fully fiat-collateralized stablecoin, currently represents an all-time high of 4% of the liquidity provided on Uniswap.
While there has virtually been zero TUSD liquidity on Uniswap, 2% of Uniswap liquidity was attributed to TUSD for the first time on March 1, 2019.
Today, that figure is closer to 4%.
The data above is from https://zumzoom.github.io/analytics/uniswap/.
The Takeaway: Centralized, censorable stablecoins are being used with censorship-resistant exchange protocols.
---
LN Capacity Increases 30% in February
The capacity of the Lightning Network increased more than 30% in February and recently crossed $3,000,000 for the first time.
Jack Dorsey getting passed the "Lightning Torch" was really somethin' else.

The data above is from bitcoinvisuals.com.
The Takeaway: I am very curious when Lightning Network will get integrated with Square and Cash App.
---
Dai - xDai Bridge Breaks 1,000 DAUs
The number of daily active users using the bridge between MakerDAO's Dai and POA Network's xDai has recently broke 1,000 for the first time.
Every xDai is fully collateralized with one Dai, as the only way to mint xDai is to move Dai from Ethereum to the xDai chain.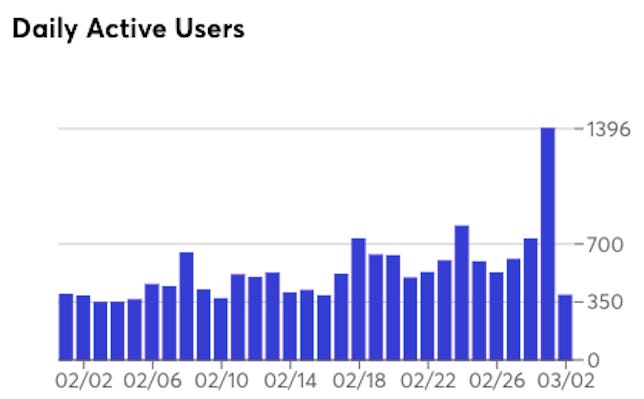 The data above is from https://trivial.co/. (h/t @RicBurton)
The 30 day average for DAUs using the bridge between MakerDAO's DAI and POA Network's xDai is 536.
The Takeaway: Public Ethereum sidechains are gaining traction.
---
Post Upgrade Ethereum
Following successful Constantinople and St. Petersburg upgrades, Ethereum blocks per day has hit its highest rate since the Ethereum chain began running.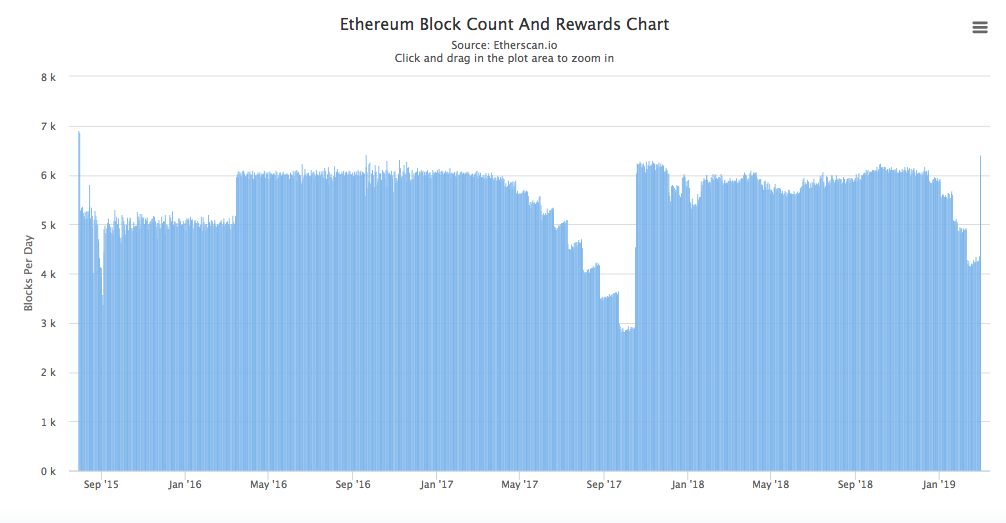 The data above is from https://etherscan.io/.
This increase in blocks per day is due to the block time hitting its fastest rate since early days of the Ethereum chain.
Average block time on March 1, 2019, the first day after the upgrades, was 14.3 seconds.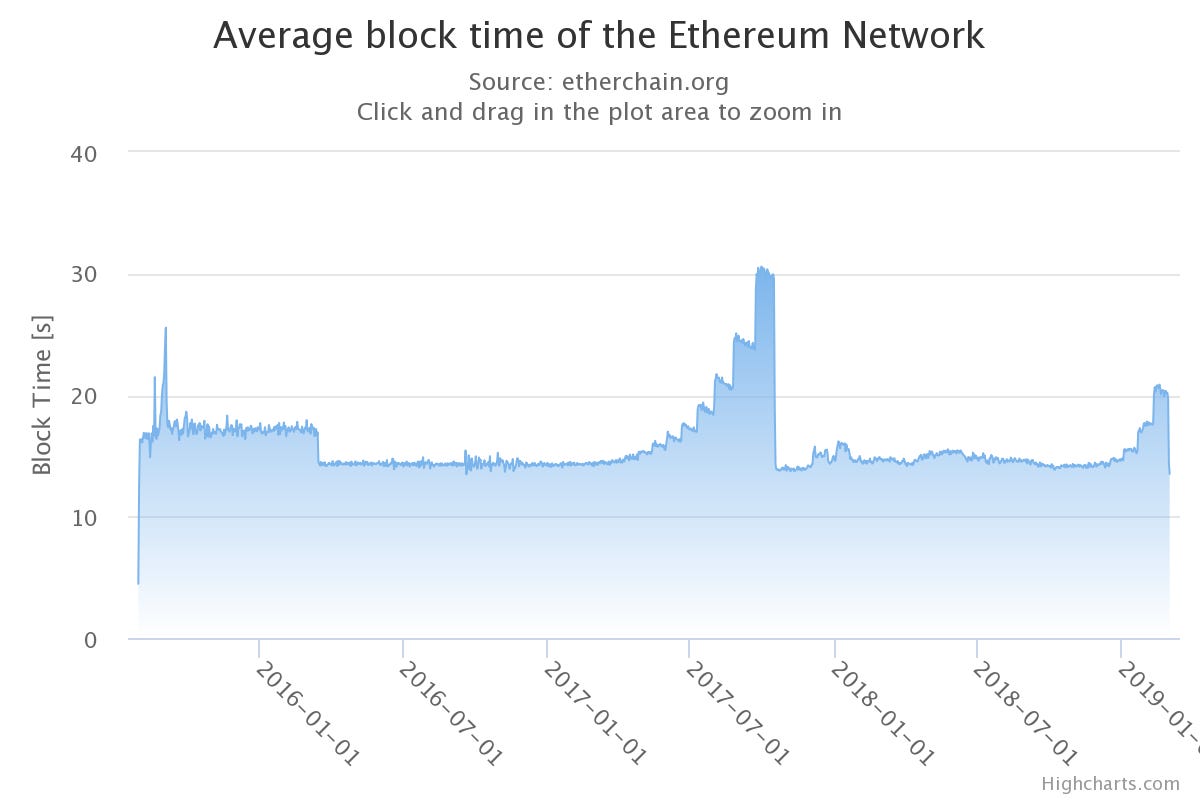 The data above is from https://etherscan.io/.
Hash rate has stayed relatively steady post fork, indicating miner sentiment is unchanged.

The data above is from https://www.coinwarz.com/
The Takeaway: Constantinople and St. Petersburg went smoothly.
---
Inaugural DeFi NYC Meetup Recap
Thank you to everyone who came out the inaugural DeFi NYC meetup, especially those on the panel Tim Ogilvie of Staked, Ric Burton of Balance, Jessica Salomon of MakerDAO, Hart Lambur of UMA, and Craig Burel of Reciprocal Ventures.
Here are some photos from the meetup: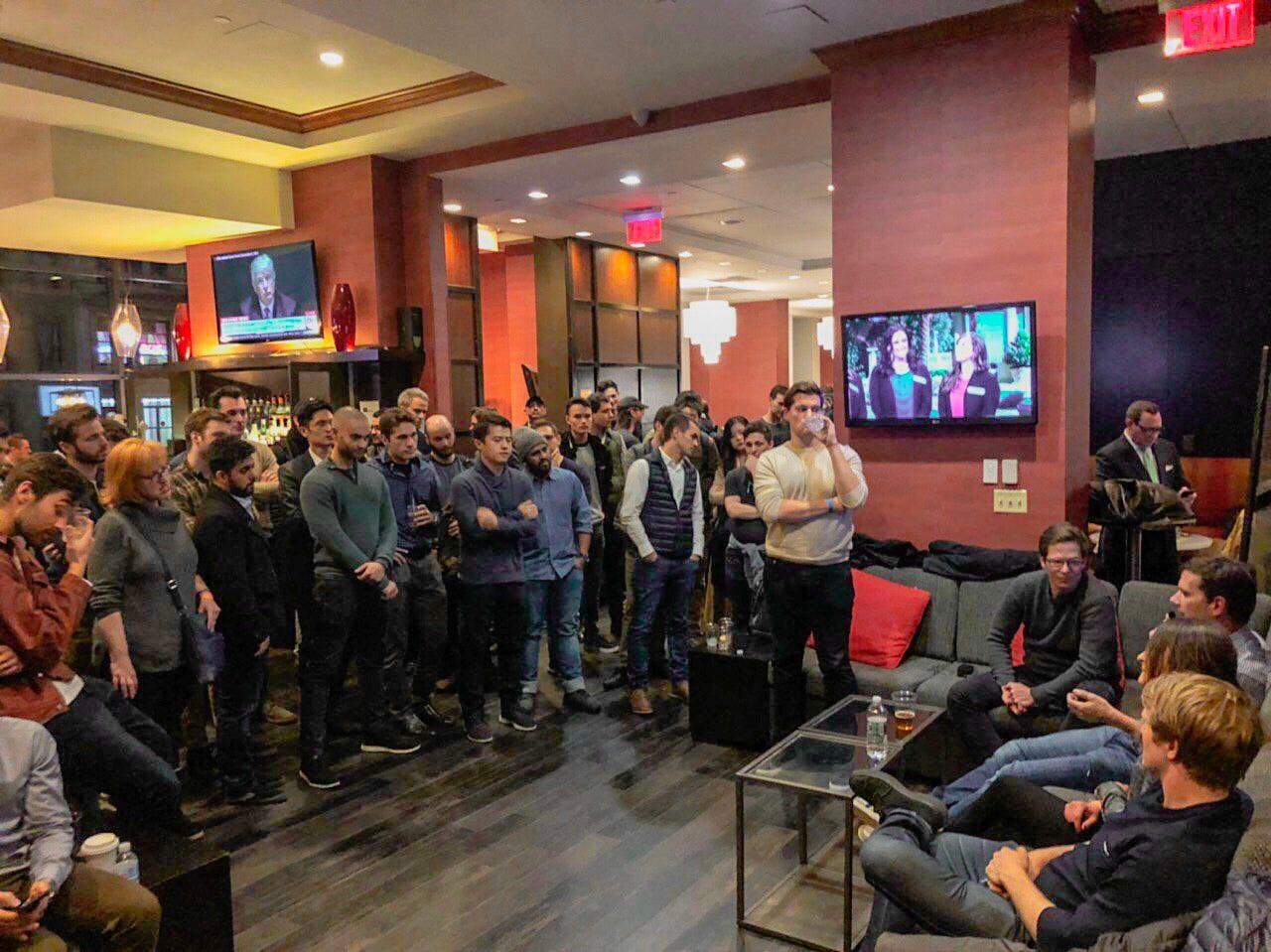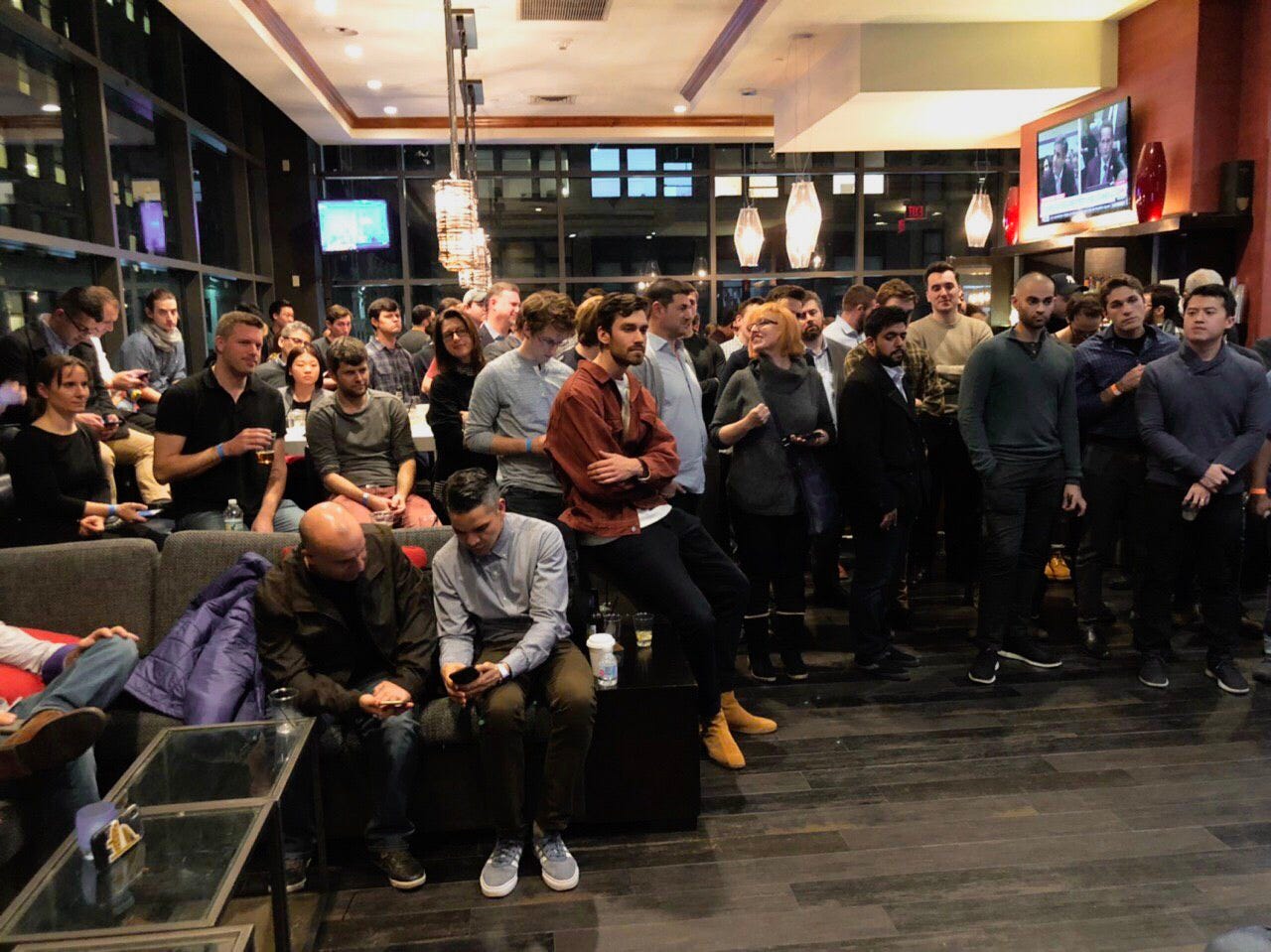 Watch the live stream and join the DeFi NYC Meetup group.
Details about the March event are coming soon.
---
Q&A with Thibauld Favre,
CEO of Fairmint

Thibauld is the CEO of Fairmint and author of the Continuous
Organization whitepaper. Prior to Fairmint, Thibauld co-initiated
democratech, a non-profit initiative aimed at transparently &
democratically crowdsourcing the best candidates for the french 2017
presidential election which gathered 150.000 citizens. Previously,
Thibauld co-founded and led Allmyapps, the 1st App Store for PC, which
he sold in 2014. Thibauld holds a masters degree in Computer Science
and and a masters degree in Corporate Finance.
Q: Where will continuous organizations be in five and fifty years?
A: In five years, I think we could reach a point where, by default, every entrepreneur on earth who is starting a new project finances it through continuous financing because it is easily 10x better than any other legacy financing mechanism and is now well understood and accepted by investors around the world. And in 50 years, the world will count thousands of DAOs with millions of participants whose financial incentives are being coordinated using continuous financing.
Q: What do you think the biggest roadblock to continuous organization adoption is?
A: I used to think the biggest roadblock would be regulation but the more we progress the more I think the biggest challenge is being able to easily communicate how the model works. Indeed, the token issued by a continuous organization (called FAIR) is neither a share nor a debt, it is a new type of fully digital financial product. In some countries like France for example, the token of a continuous organization is not considered a security which is great. However, it is extremely important to be able to explain how it works in a simple manner so that stakeholders of any organization can adopt it with confidence.
Q: What are your favorite continuous organizations?
A: There is no live Continuous Organization that I know of yet. Until very recently, the Continuous Organization model was only a research work but it generated a lot of enthusiasm in the community and we got contacted by many entrepreneurs asking how they could enable continuous financing for their organization. So now the time has come to make continuous financing a reality, and that's what we are focusing on with Fairmint.
Q: What should we know about what you are building?
A: Today, I am focusing 100% of my time on Fairmint to create the first revenue based continuous financing platform. Based on the research done on the Continuous Organization model, Fairmint enables organizations to easily finance their activity while building a strong alignment with their community through the continuous issuance of a new type of financial products. In short, we hope to deliver the promise that ICOs failed to deliver.
Q: How will continuous organizations be impacted by ETH 2.0?
A: What the Continuous Organization model really requires is a battle-tested turing-complete blockchain. As far as we are concerned, ETH 1.0 is already perfect for continuous financing, so even though I am personally looking forward to seeing ETH 2.0 ship, I don't think it will have that much of an impact. Actually, the Continuous Organization model is pretty blockchain agnostic, so I'd love to see reference implementations being built on as many blockchains as possible.
---
That concludes the tenth issue of On-The-Chain. Feel free to reach out to me on Twitter. My DMs are always open.
A special thank you to Thibauld.
Nothing in this email is intended to serve as financial advice. Do your own research.
Ξ: 0x531BCcD06875a734447f7c6AFf810f775fc6188c
₿: bc1qcaahhtk42x6hpl0flunkyttx7mwtmnuklksfpu