On-The-Chain - March 11, 2019 - Q&A w/ Sowmay Jain of InstDApp
Post Cosmos MainNet Launch Snapshot, Lightning Network Goes Parabolic, ETH Locked in Augur Hits 6-Month Low, & Q&A With Sowmay Jain of InstaDApp
Welcome to On-The-Chain, a focused look at the most interesting data, networks, and people pertaining to the chain and crypto economics.
This issue features a Q&A with Sowmay Jain of InstaDApp.
---
Post Cosmos MainNet Launch Snapshot
The Cosmos Hub MainNet went live this past Wednesday.
Roughly four days or 55,000 blocks later, there are 82 validators, 73,850,849 bonded ATOMs, and a staking rate of 31%. 

The data above is from https://cosmos.bigdipper.live/.
The Takeaway: The days of blockchain interoperability have begun and our industry is paying attention. It will be fascinating to protocols interoperate.
---
Lightning Network Goes Parabolic
Lightning Network capacity recently surged more than 25% or nearly $1 million.
The average capacity per Lightning Network node is now $2,165 and there is an average of 20 channels per LN node.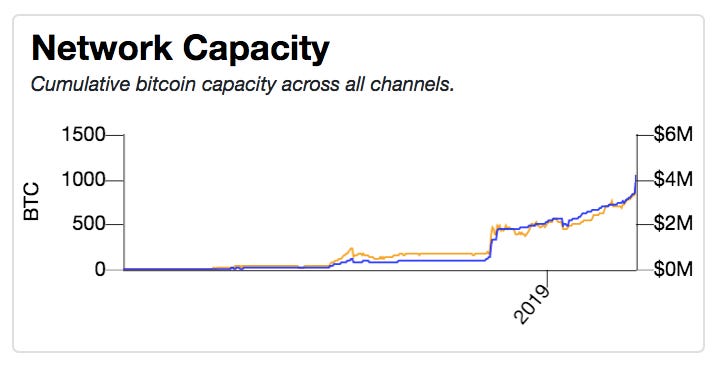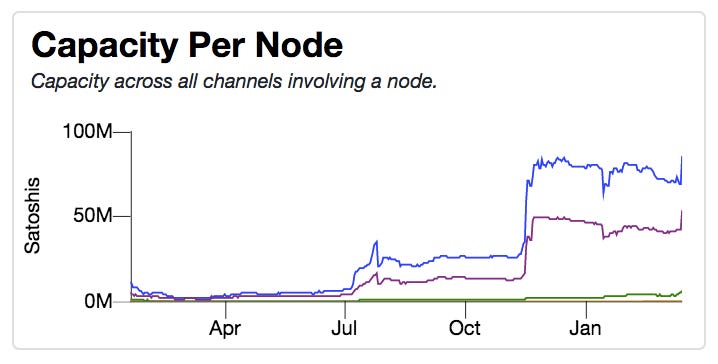 The data above is from https://bitcoinvisuals.com/lightning.
The Takeaway: Lightning Network Capacity is currently still less than $5 million, yet growing at a prolific rate. This could change quickly if @Jack has anything to do with it.
---
ETH Locked in Augur Hits 6-Month Low
The amount of ETH locked in Augur has recently hit a 6-month low of 5,324.71.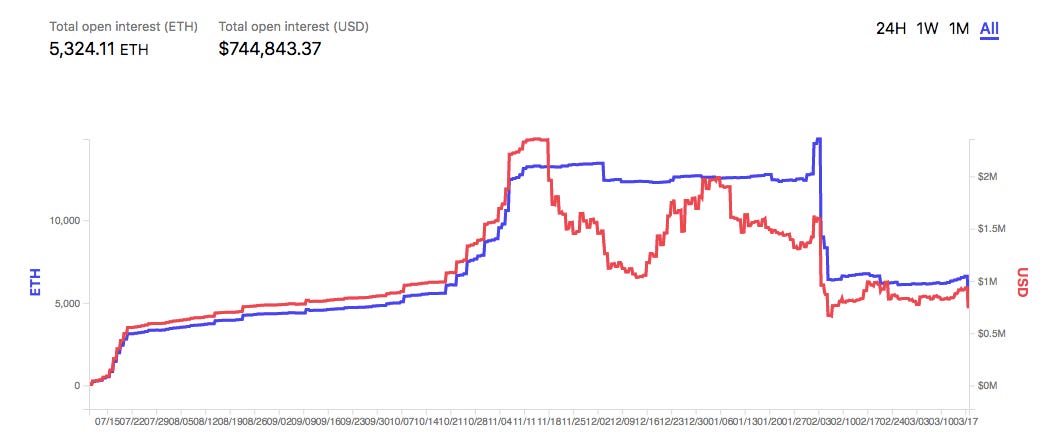 The data above is from https://veil.co/augur-open-interest.
The Takeaway: Veil and other platforms built on Augur are imperative to the success of Augur.
---
Q&A with Sowmay Jain, Founder of InstaDApp

Sowmay Jain is the founder of InstaDApp, an India-based decentralized bank built on top of MakerDAO Protocol. InstaDApp features an easy-to-use interface by abstracting complexities under the hood for end users.
Q: How much open finance interest are you seeing in India?
A: Ever since the ban on 'virtual currencies' in India, the uprising of Open Finance has seemed to be quiet descending. Despite the ban — we hope it's a temporary one — there have been several crypto-based startups in India, which I believe is truly revolting. Adopters need to understand the underlying principle that runs 'virtual currencies' that is the Blockchain, which will have more than just monetary benefits.
There's been an ongoing twitter session led by Nischal Shetty (Founder of WazirX) wherein he tweets the finance minister every day to positively regulate crypto in India. Once, we receive a few quick wins, specifically from the government's side to create an environment which will encourage innovation in open finance.
Q: How can open finance most benefit India?
A: The primary attribute of Open Finance is its immutability, its what makes it so powerful. There are certain sectors which can openly use open finance to upgrade their working;
Financial Sector: Conducting financial activities will be available to everyone at a cheaper and quicker rate, eliminating the hassle of carrying out financial activities from a bank.

Governance: Due to the transparency Open Finance provides, bribing rates a.k.a corruption will decrease. Having a transparent and untempered voting result will build a solid foundation of trust between the Government and the citizens. 

Healthcare System: Open finance will help validate the accuracy of procedures, eradicating malpractices and reduce cost, enabling better health management with innovative and regulatory practices. 
Q: What specifically are you looking out regarding the launch of Multi-Collateral Dai (MCD)?
A: The concept of easy-to-use MakerDAO CDPs in MCD reimagined into a bank account with savings rate is awesome. I think we are spot on and it's good timing with the growth of Maker's ecosystem.
Also, MCD launch which will bring immediate values to InstaDApp as a Decentralised Bank. We will be able to:
Allow collateralization of multiple tokens. However, ETH will still remain the main collateral asset in the system.

Earn saving interest for stacking DAI in the system bridging the complete banking need for InstaDApp.
Collateralizing multiple assets on MakerDAO Protocol is a great advancement in the protocol. We truly believe MCD will bring more on-chain adoption of the permission debt market.
Q: Where will open finance be in both five and fifty years?
A: Open Finance is slowly aiding various industries around the world. In the next five years, people will be using open finance without even knowing it. The same thing happens today when you use an app, without even knowing the underlying technology. I also think, there will be a huge difference in job perspectives, as the ability to work from anywhere around the world will increase exponentially. 
Whereas in the next fifty years, almost everything shall be automated, wherein everyone would have the power to carry out all their financial activities easily with MakerDAOs DAI as the stable form of currency. Maybe, even paying your taxes in DAI.
---
That concludes the eleventh issue of On-The-Chain. Feel free to reach out to me on Twitter. My DMs are always open.
A special thank you to Sowmay!
Nothing in this email is intended to serve as financial advice. Do your own research.
Ξ: 0x531BCcD06875a734447f7c6AFf810f775fc6188c
₿: bc1qcaahhtk42x6hpl0flunkyttx7mwtmnuklksfpu