On-The-Chain - April 7, 2019 - Q&A w/ James Prestwich of Summa
DeFi NYC Presents: Investing In DeFi, MakerDAO Loans Originated Volume Spikes, Q1 DEX ETH Volume Analysis, MKR + DAI ≈ 70% Uniswap Liquidity, & Q&A with James Prestwich of Summa
Welcome to On-The-Chain, a focused look at the most interesting data, networks, and people pertaining to the chain and crypto economics.
This issue features a Q&A with James Prestwich of Summa.
---
DeFi NYC Presents: Investing in DeFi
Join the NYC DeFi community this Monday evening at Distributed Global at 6:30 PM.
The "Investing in DeFi " panel discussion moderated by myself (!) will feature Jake Brukhman (CoinFund), Richard Kim (Galaxy Digital), Pankaj Jain (Angel and Former 500 Startups Partner), and Alex Evans (Placeholder).
Join the Meetup group and sign up!
---
MakerDAO Loans Originated Volume Spikes
MakerDAO loans originated volume has spiked with the recent price action. There are currently 2,201,230 ETH locked in MakerDAO smart contracts.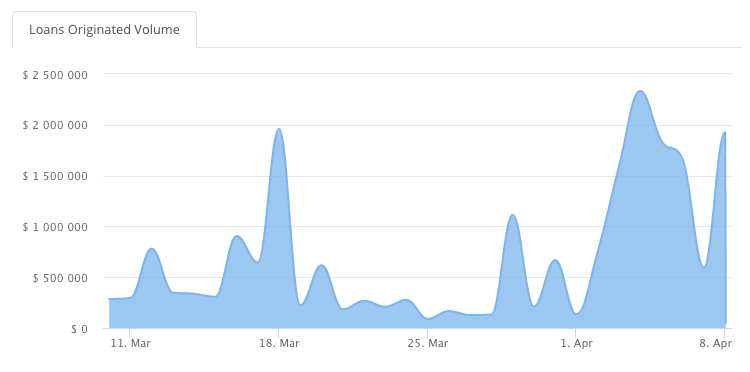 The data above is from https://loanscan.io/makerdao.
The Takeaway: Leverage.
---
Q1 DEX ETH Volume Analysis
Below is a breakdown of the ETH volume of the decentralized exchange (DEX) landscape. Uniswap has amassed nearly 10% of this volume in its short existence.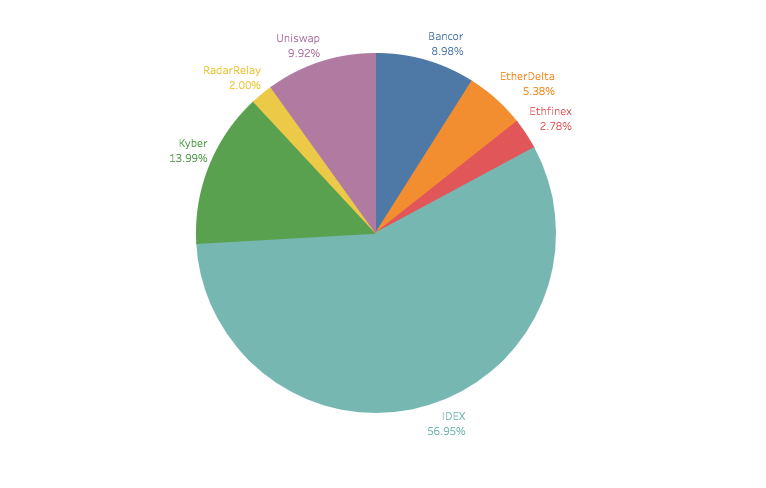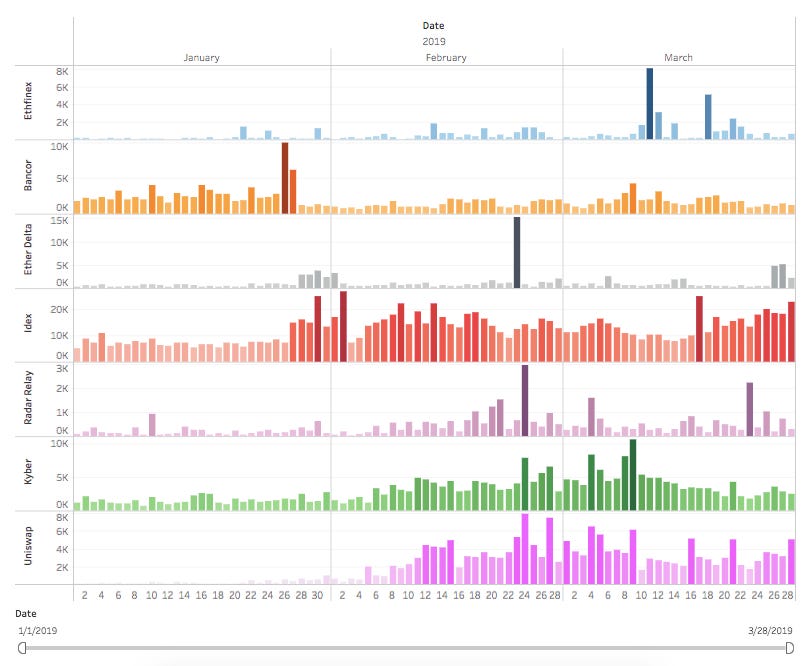 The data above is from https://public.tableau.com/profile/alethio#!/vizhome/ETHVolumeonDEXes-2019Q1/Story1.
The Takeaway: IDEX is still the largest DEX, while Uniswap is undoubtedly growing at the most prolific rate. IDEX volumed picked up towards the end of Q1.
---
MKR + DAI ≈ 70% Uniswap Liquidity
The DEX with a automated market maker is rapidly approaching $10M of Ethereum-based crypto assets locked in its smart contracts.
MKR and DAI make up a significant percentage of these Ethereum-based crypto assets - 68% to be exact.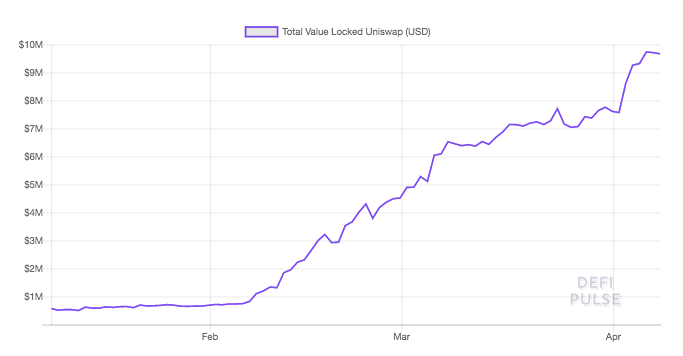 The data above is from https://defipulse.com/.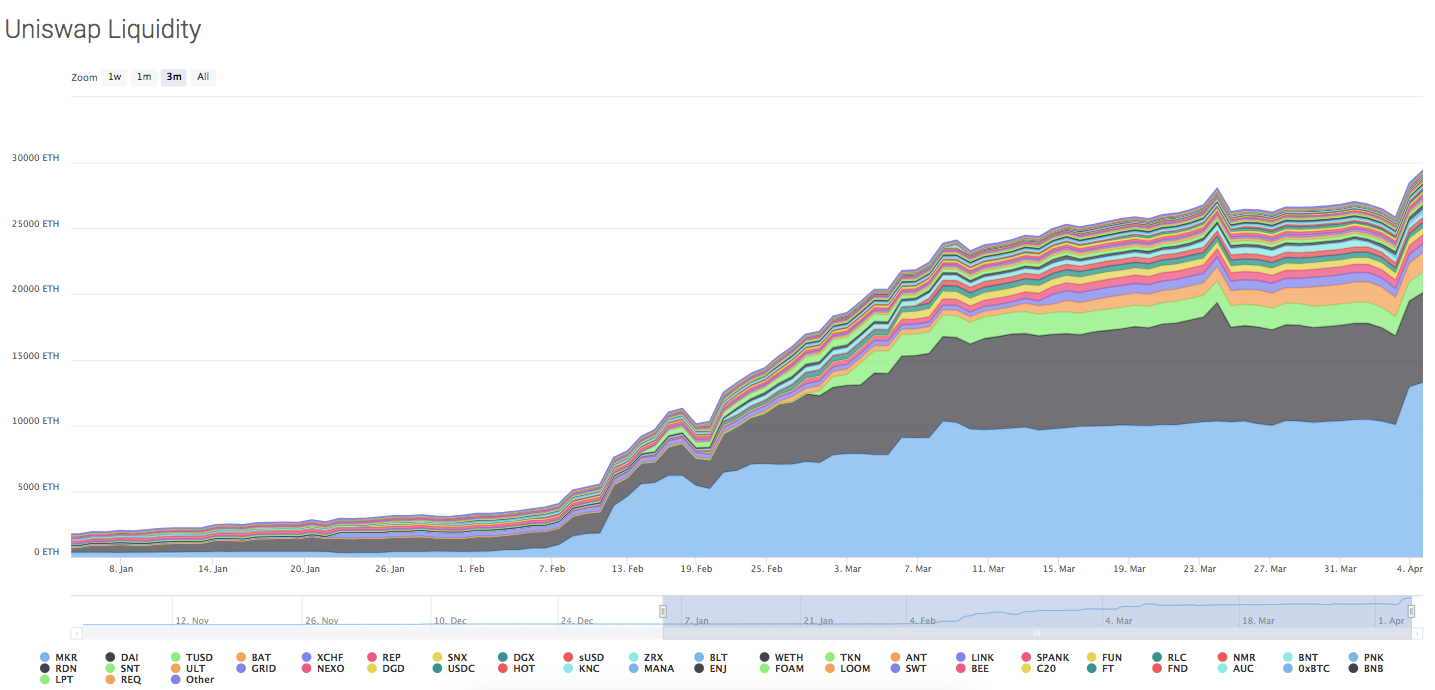 The data above is from https://zumzoom.github.io/analytics/uniswap/index.html.
The Takeaway: MakerDAO and Uniswap have a symbiotic relationship.
---
Q&A with James Prestwich, Founder of Summa

James is an engineer, founder, and curry enthusiast. Summa, his current start-up, builds cross-chain interoperability systems. He also maintains Riemann, a suite of development tools for Bitcoin, Ethereum, and a dozen other chains.
Q: What do you see as the biggest roadblock (s) to blockchain interoperability?
A: We see a couple of roadblocks that have prevented more widespread interoperability to date:

First, interoperability is still largely under-researched. Many of the narratives in the space revolve around devotion to one chain, token, or system over all others. Partisanship has stifled a lot of potential conversation about practical and useful interoperability systems.
Second, interoperability projects have always taken extremely narrow approaches. Prominent providers have worked to create faux-interoperability by building entirely new ecosystems. Most interoperability providers require projects to abandon current systems and rebuild entirely within their framework - accepting the burden, risks, and overhead that the transition entails. We believe in building infrastructure to connect existing chains. Trading one silo for another is not true interoperability.
A number of projects building new chains are well-funded and positioned to launch over the next couple of years. Fragmentation will only worsen with time, and the current approach to interoperability is not sustainable. One of our goals, founding Summa, was to discover the unique and valuable strengths of each chain. We believe that connecting existing chains to one another is more valuable than building a new competing chain.

Q: What would you consider an optimal transition from ETH1 to ETH2?
A: The transition from ETH1 to ETH2 poses a very thorny issue for the Ethereum community. ETH2 is an entirely new chain, that is fundamentally incompatible with ETH1. Each individual will have to choose to migrate or not, and a messy chain-split seems possible. In our minds, "optimal" means that everyone gets to choose to follow their real preference. We know that the Ethereum Foundation is working tirelessly to make the transition as smooth as possible, and we hope for the best.
Regardless of the outcome, we will continue our work to stay ahead of the curve on solutions. Summa already has initial designs for fast cross-shard communication. We intend to ensure that this transition does not come at the cost of effective communication between chains or shards.

Q: What is your general timeline for interoperability in our industry?
A: From a big picture perspective, projects will continue to innovate, and new chains will continue to launch. We expect to see half a dozen launch in 2019 or 2020. With the launch of Cosmos, the impending launch of Polkadot, and the Ethereum Foundation gearing up for ETH2, it looks like chain-of-chains ecosystems will dominate the conversation for a year or more.
The rapid pace of development in this space means our work to provide universal interoperability will be ongoing. We have a few integrations underway with prominent projects across chains. Today, our products support Ethereum, Bitcoin, and several other UTXO-based chains. We expect to support at least one more chain this year and are launching multiple project-specific integrations.

Q: Are you a fan of atomic and non-atomic swaps?
A: Both atomic and non-atomic swaps have their place. Atomic swaps have a memorable name, so they get a lot of attention at the expense of other forms of communication. In fact, there are five major interoperability mechanisms. Our goal is to leverage the strengths and be cognizant of the limitations of each and use them in conjunction with one another to achieve the best possible result. The key is to tailor the solution to the problem, rather than coercing the problem to fit the solution. Atomic cross-chain exchanges never took off because the atomic swap doesn't serve their needs.
That said, stateless SPV proofs will always have a special place in our hearts <3
Q: How do you feel about Cosmos / Tendermint?
A: We are big fans of anyone working to create interoperability solutions, and we are excited to see the future of Cosmos. As with any new blockchain project, we have concerns about the potential attack surface and the system's limitations. We know that the Cosmos team are working hard to address these same questions. As Cosmos grows, we will continue to focus on building interoperability solutions that will allow them (and every other project) to gain access to larger markets, pooled marketplaces, and effective cross-chain communication tools.
---
That concludes the twelfth issue of On-The-Chain. Feel free to reach out to me on Twitter. My DMs are always open.
A special thank you to James!
Nothing in this email is intended to serve as financial advice. Do your own research.
Ξ: 0x531BCcD06875a734447f7c6AFf810f775fc6188c
₿: bc1qcaahhtk42x6hpl0flunkyttx7mwtmnuklksfpu