On-The-Chain - January 7, 2019
Enormous dYdX Growth, Lowest Bitcoin Fees in 3+ Years, & ETC Gets 51%'d
Welcome to On-The-Chain, a focused look at the most interesting data, networks, and people pertaining to the chain and crypto economics.
---
Enormous dYdX Growth
dYdX is a margin trading protocol built on Ethereum. dYdX has introduced a plethora of interesting financial products including short sale tokens, interest-generating loans, and leveraged long positions. 
Over the past week, dYdX has seen a 180% increase in ETH locked up on its platform. This mammoth move is a result of increased use of expo, a platform built on dYdX to buy and sell margin tokens. Expo most likely saw a surge in traffic as speculators sought leverage to capitalize on ETH's recent volatility.

The data above is from https://mikemcdonald.github.io/.
The Takeaway: Decentralized finance is growing at a prolific rate, as folks in the Ethereum community continue to pick up on the bullish sentiment around DeFi. Keep an eye out for continued interest in trustless margin trading and expo.
---
Lowest Bitcoin Fees Per Tx in 3+ Years
Per Bitcoin Visuals data, average Bitcoin Fees Per Tx (USD) have reached the lowest level in 3+ years. 
Fees Per Tx (USD) is the daily median transaction fee statistics per transaction and block, excluding coinbase transaction (miner reward), as defined by Bitcoin Visuals.

The data above is from https://bitcoinvisuals.com/chain-fees-tx-usd.
The Takeaway: When there is not a mempool backlog, fees stay low because miners will accept low transaction fees into the block. As soon as the mempool increases, you will need to incentivize the miners with a higher fee to get your transaction in the block. Fees have returned to such low rates because we haven't seen spikes in mempool activity like we did in the price run-up of 2017.
---
ETC Gets 51%'d
In a crypto bear market, many are looking for creative ways to make money. Some folks in our community have become keen on 51% attacks.
Over the weekend, Ethereum Classic (ETC) was 51% attacked. The attack resulted in a 100+ block reorganization and significant double spends. Double spends totaling 88,500 ETC (~$460,000) were detected, noted Coinbase.
According to the Ethereum Classic Twitter:

Per crypto51.app, it would currently cost around $4,532 to 51% attack the Ethereum Classic chain for one hour.
Here are some theoretical 51% attack costs: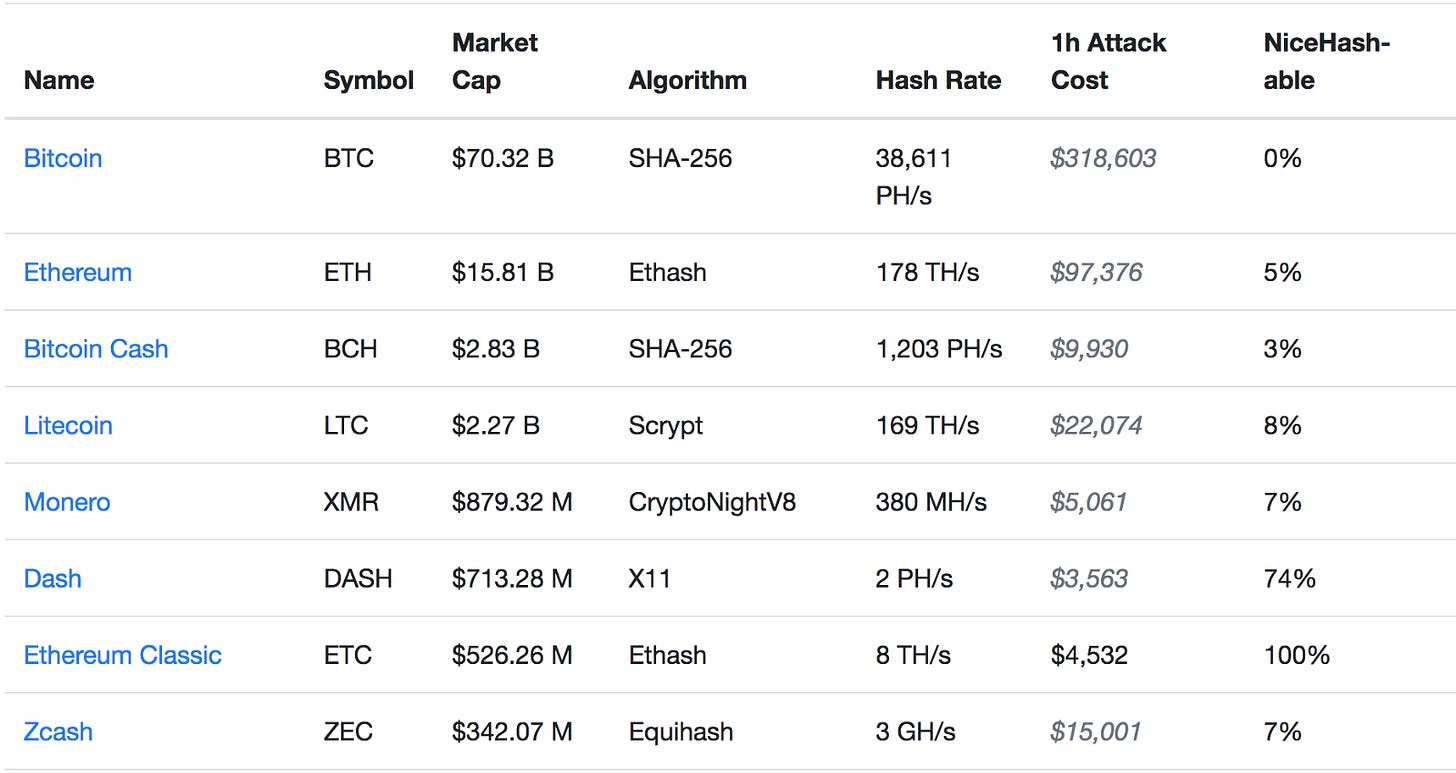 The data above is from https://www.crypto51.app/.
The Takeaway: 51% attacks can clearly be quite lucrative for attackers. In this case, the attackers made off with nearly $500,000. Whether attackers are motivated by greed or malice, expect 51% attacks to become more popular with less prominent blockchains. 
---
That concludes the third issue of On-The-Chain. In the coming weeks, I will be doing Q&A's with Founders, VCs, and other interesting folks. Stay tuned!
Feel free to reach out to me on Twitter. My DMs are always open. A special thank you to Brian Flynn and Edward Kerstein!
Nothing in this email is intended to serve as financial advice. Do your own research.