On-The-Chain  - January 28, 2019 - Q&A w/ Mikerah Quintyne-Collins
Soccer Dominates Augur, CryptoKitties Top NFT Volume, ETH Supply Locked in CDPs Nears 2%, & Q&A with Mikerah Quintyne-Collins of ChainSafe Systems
Welcome to On-The-Chain, a focused look at the most interesting data, networks, and people pertaining to the chain and crypto economics.
This issue features a Q&A with Mikerah Quintyne-Collins, Researcher at ChainSafe Systems.
---
Soccer Dominates Augur
Finalized prediction markets on Augur featuring the word "soccer" are extremely popular. "Soccer" is the top-ranked word in finalized prediction markets over the past 7-day and 30-day periods and the second-ranked word over the past 90-day period. There has respectively been 19, 36, and 101 finalized prediction markets on Augur featuring the word "soccer" over the past 7-day, 30-day, and 90-day periods.
It is also quite interesting that the words "English", "Premier", and "League" rank among the top words found in finalized prediction markets. 
7-Day Period

30-Day Period

90-Day Period

The charts above are from https://www.curiousgiraffe.io/augur/.
The Takeaway: While prediction markets parlayed with sports betting make sense, the DOJ thinks otherwise. It will be exciting to watch how prediction markets evolve.
---
CryptoKitties Top NFT Volume
CryptoKitties has risen to the top-ranked NFT project by 7-day volume. CryptoKitties has seen more than 16,000 transactions over the past 7 days, with an average price of $3.69. Decentraland, the second-ranked project by 7-day volume, saw 36 transactions over the past week with an average price of $1,010.08.

The data above is from NonFungibles.com.
There have been 521,021 total sales and 416,613 total unique kittens sales since the inception of CryptoKitties. These sales have totaled nearly 56,000 ETH or ~$27M. The average and median sale price of a digital kitten are respectively $52.14 and $13.13.
The Takeaway: We are getting a glimpse of the potential adoption that digital collectibles and blockchain-based games may see in the future.
---
ETH Supply Locked in CDPs Nears 2%
The percentage of the ETH supply locked in CDPs has reached an ATH of 1.89% or 1,976,030 ETH. This figure has nearly sextupled over the past six months.

The chart above is from https://mkr.tools/.
The Takeaway: Increasing amounts of ETH locked in CDPs could be bullish for the price of ETH. It will be fascinating to see how the amount of ETH locked in CDPs reacts to the launch of multi-collateral Dai.
---
Q&A with Mikerah Quintyne-Collins, Researcher at ChainSafe Systems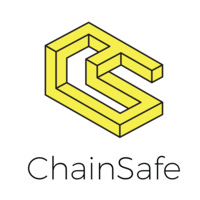 Mikerah Quintyne-Collins is a Researcher at ChainSafe Systems and former Mathematics and Statistics student at the University of Toronto.
Let's kick things off with a quick story.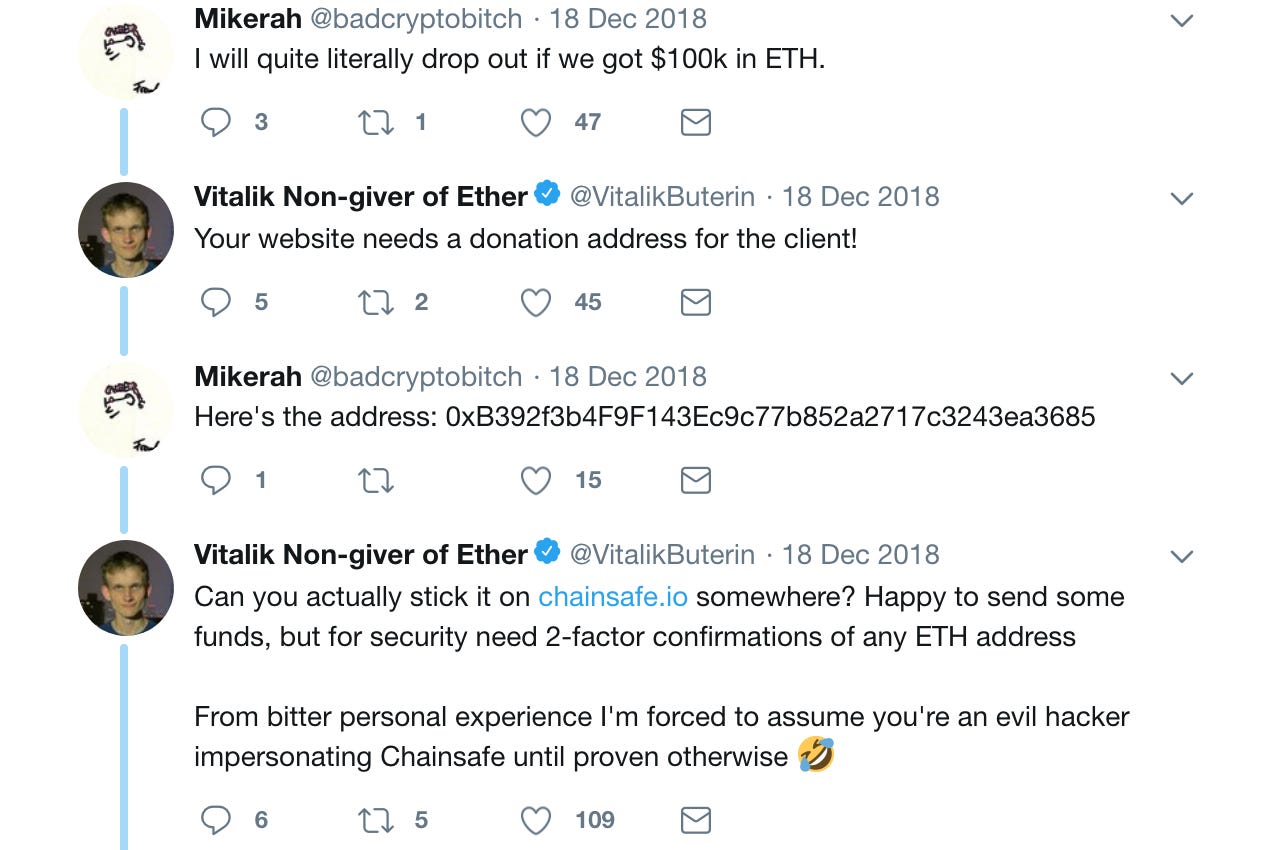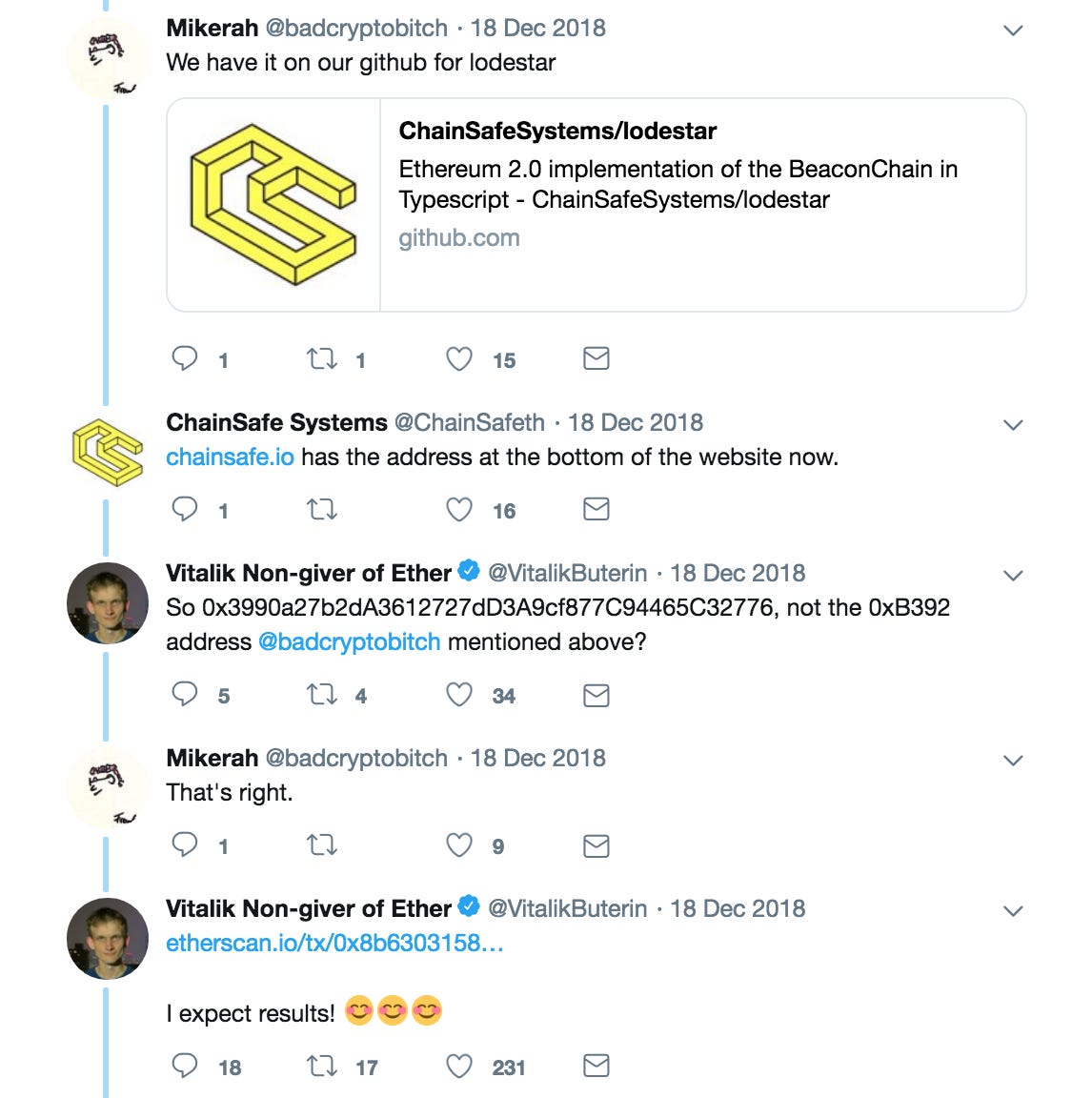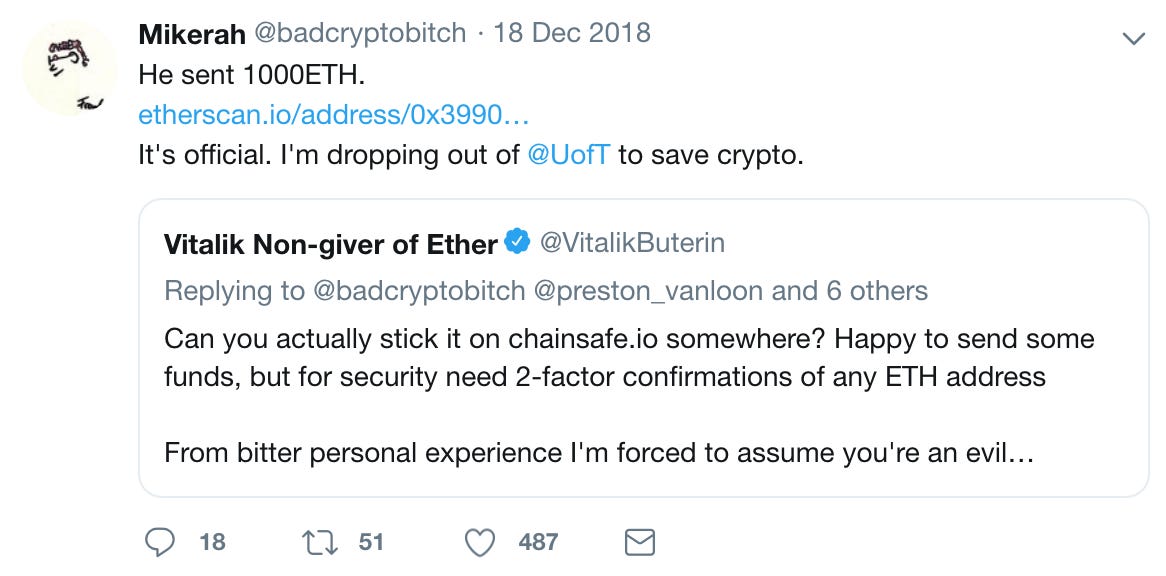 Q: What do you want our industry to know about what you are working on?
A: I am working on a Typescript implementation of the beacon chain at ChainSafe Systems. The beacon chain is a vital part of Eth2.0 AKA Serenity. I also try to do my part in doing research for Serenity. In terms of research, I am currently focused on sharding p2p networking and wealth inequality research. These two areas are probably the least talked about and I wanted to work on something few people work on, so that I can maximize my learning and get that sweet, sweet Twitter engagement!
Q: What do you think are some of the biggest misconceptions in the Ethereum community?
A: Not everyone is optimistic and slightly delusional. I don't mean this in a bad way and I do think optimism is needed when working on such a large project in which very few people understand how it all comes together. But, among the developers and researchers doing serious protocol level work on either the layer 1 or layer 2 side, we understand that this is actually very hard and we don't expect to have all the answers or even how to go about implementing certain things. Yes, we are optimistic but we are also realistic about the limitations of the technology. We are currently working on how to work within these limitations and we are discovering new limits as well. So, if you think Ethereum community members are somewhat optimistic, it's probably kind of true but not all of us are. In fact, that optimism is a double-edged sword. It could be encouraging to developers and researchers but it could also add a lot of unnecessary stress and pressure to deliver untested or not thoroughly discussed ideas.
Q: What are some things that the community doesn't often discuss that you think could impact the future of Ethereum?
A: The acquiring of ETH and wealth inequality. First, wealth inequality is fine as long as it doesn't reach out of control. But, the goal is, indeed, to build a more egalitarian system. As Ethereum moves to a PoS network, this is probably going to be a big challenge. Currently, exchanges own double-digit percentages of all ETH in existence and I predict that they will most likely want some say in the protocol by participating in the PoS network. As we have seen with EOS and other dPoS/PoS cryptocurrencies, it never ends well. One facet of trying to soften this is making it easier to acquire ETH without going through an exchange. The use of some PoW component easily fixes this. However, if integrated naively, completely defeats the purpose of transitioning to PoS. So, as a community, we need to find ways to trustlessly acquire ETH without the dependence of exchanges.
Q: Where do you see our industry in both 5 and 50 years?
A: I don't really know. Anything could happen in those time frames. It could be that the industry dies and gets forgotten or it is booming. It's most likely going to be growing in the next 5 years with other major blockchain ecosystems and cross-collaboration between such ecosystems. On the 50 year timeline, nobody is going to particularly care (in a good sense) since it'll (hopefully) be more ingrained and we can stop using dumb terms like DApps, instead we will call apps built on hybrid decentralized/centralized tech, just that, apps.
Q: What changes are you watching out for when Ethereum transitions from a PoW chain to a PoS chain?
A: Well, first, nobody really knows what that's going to look like. Every other day, there's a new proposal/idea on Twitter or Reddit that doesn't make much sense without any context. An example is that the current chain will be one of the 1024 shard chains in Eth2.0. As an initial thought, I thought this was pretty dumb because then you would still have to maintain that chain and it doesn't inherently fix any of the scaling issues. As a further thought, I realized that idea isn't too bad. It would simplify the UX for developers that have deployed apps on Ethereum and give them enough time to decide how to handle their applications without being forced to do so. So, I would watch out for this particular on-chain proposal to make the current chain a shard. I'm curious to see how this will play out in practice.
---
That concludes the sixth issue of On-The-Chain. Feel free to reach out to me on Twitter. My DMs are always open.
A special thank you to Mikerah and Christian Kaczmarczyk!
Nothing in this email is intended to serve as financial advice. Do your own research.