On-The-Chain  - February 5, 2019 - Q&A w/ Will Warren of 0x
 Augur Open Interest Falls 57%,  Grin UTXO Set Size Hits ATH, 72+ BTC Represented on Ethereum, & Q&A with Will Warren of 0x
Welcome to On-The-Chain, a focused look at the most interesting data, networks, and people pertaining to the chain and crypto economics.
This issue features a Q&A with Will Warren, Co-founder & CEO of 0x.
---
 Augur Open Interest Falls 57%
The open interest on Augur, or the total amount of funds in escrow across all Augur markets, recently fell 57%. 
This move was primarily caused by the finalization of the 2018 House of Representatives prediction market, which featured nearly $600,000 worth of ETH locked up. After six rounds of disputes, "democrats" was the winning outcome of this prediction market.

The data above is from https://www.augur.net/.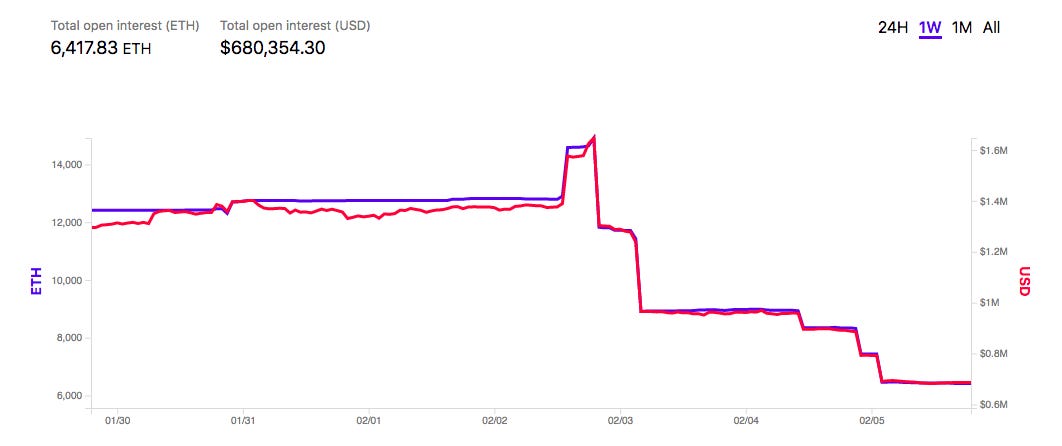 The chart above is from https://www.curiousgiraffe.io/augur/.
The Takeaway: Augur is being used for prop bets.
---
 Grin UTXO Set Size Hits ATH
Increasing more than 60% over the past six days, the Grin UTXO set size has recently hit an all time high.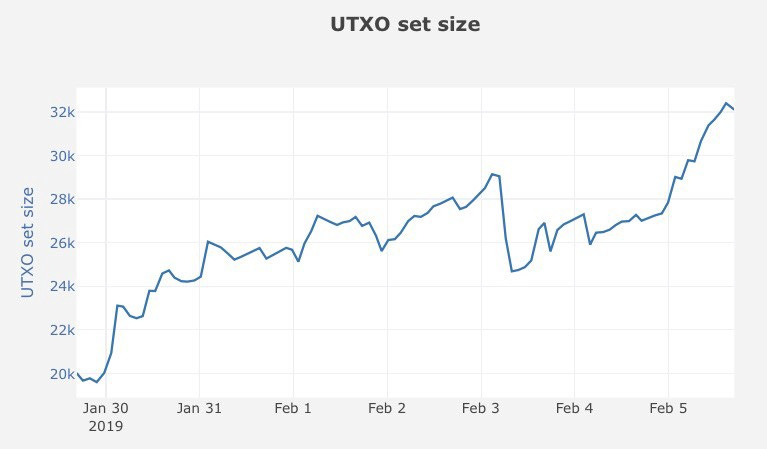 The chart above is from https://grinscan.net/.
The Takeaway: We can be certain that Grin is growing.
---
72+ BTC Represented on Ethereum
BitGo, Ren Protocol, and Kyber Network recently launched their highly anticipated joint initiative, Wrapped Bitcoin (WBTC). BitGo is the custodian for WBTC, while Kyber and Ren Protocol are the first merchants.
There is one Bitcoin for every WBTC token that exists, a 1:1 ratio. When a Bitcoin backing a WBTC is redeemed, a WBTC is burned. Conversely, WBTC is minted by BitGo with approval from the merchant. This model is similar to that of fiat collateralized stablecoins, such as TUSD, GUSD, PAX, and USDC.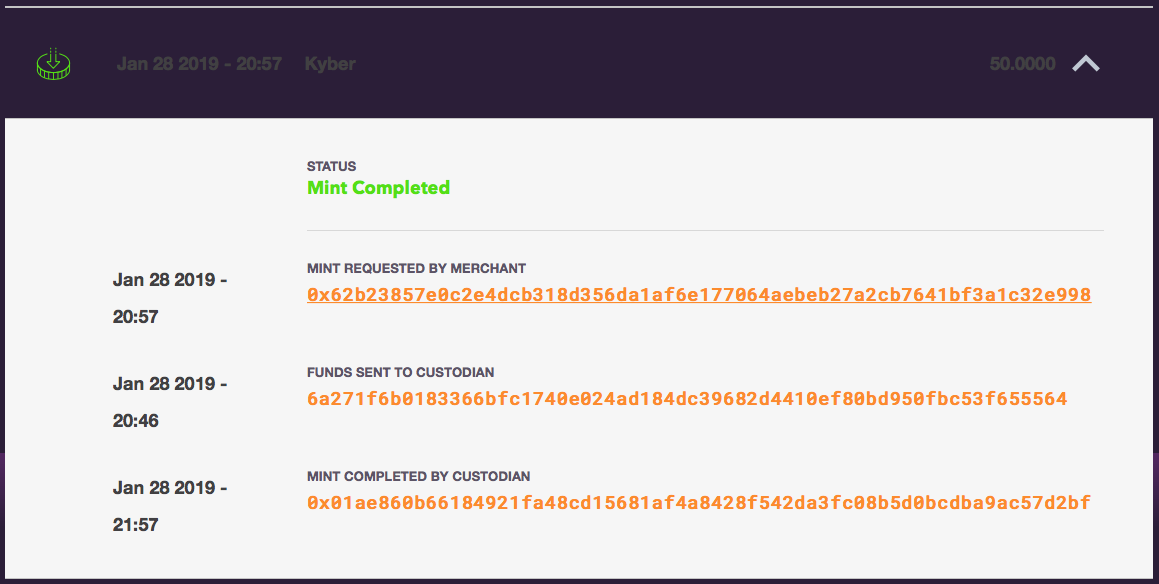 The data above is from https://www.wbtc.network/.
A Decentralized Autonomous Organization or DAO made up of respectable crypto projects will publicly audit the BTC and WBTC balances and handle a plethora of governance activities.
The Takeaway: Assets that are not native to Ethereum can quite easily be represented on the Ethereum blockchain. A proxy for Bitcoin can also now be used in the Ethereum ecosystem.
---
Q&A with Will Warren, Co-founder & CEO of 0x

Will Warren is co-founder and CEO at ZeroEx Inc. which is developing 0x protocol; public infrastructure for peer-to-peer exchange on the Ethereum blockchain. After receiving a B.S. in Mechanical Engineering from UC San Diego, Will worked as a graduate research assistant at Los Alamos National Laboratory and spent two years in UC San Diego's Structural Engineering doctoral program before dropping out to pursue an interest in Ethereum full time.
Q: How has your role changed during your time as CEO of 0x?
A: When Amir and I first started working on 0x, we split our time between writing code, getting our organization setup, and fundraising so we could pay for legal counsel and to hire teammates. Our team was 6 people at the time of the token sale and, afterward, much of my focus shifted towards recruiting and figuring out how to grow/structure the team. We've been incredibly fortunate in recruiting world-class teammates and we just recently reached 30 people. Now much of my focus is on our roadmap, emerging tech, and I do some R&D too.
Q: What types of platforms are you excited to see built on 0x?
A: There are many opportunities for tokenizing assets and I'm excited to see a diversity of products built on 0x that target different verticals of tokenization. In 2019, I'm particularly excited to see growth in tokenized video game items and prediction markets. Tokenized securities are also exciting, though it feels like the trend may take longer to play out.
Q: What have you learned from the launch of Veil?
A: The Veil team is talented, hard working, and building a product that people want. I wouldn't be surprised if Veil becomes the first killer dapp on Ethereum. Hopefully we can show the world that prediction markets are an invaluable tool and source of knowledge that can be used to cut through disinformation and help inform decision making.
Q: When do you think we will start to see DAO adoption?
A: There are a number of DAO projects launching in the next few months and I imagine we will start to see some interesting activity take place in late 2019. The technology is ready and the need for governance over communal resources exists today. My guess is that just about every crypto project will have a DAO and community-run treasury in the next 2–3 years. It's going to be a wild ride: https://twitter.com/willwarren89/status/1062625893770715137
Q: What are some roadblocks to the adoption of DEXs and DAOs?
A: I think Alan Curtis from Radar describes the user acquisition funnel pretty well here: https://twitter.com/AlanJamesCurtis/status/1068925449034768390
Sometimes it doesn't feel like it due to the amount of excitement in the crypto community, but we are still in the super early days of a multi-decade trend. There are a number of short to medium-term roadblocks including scaling, UX, and regulation. But decentralization of the financial system and other institutions will prove to be the long-term path of least resistance.
---
That concludes the seventh issue of On-The-Chain. Feel free to reach out to me on Twitter. My DMs are always open.
A special thank you to Will, Edward, and Nic!
Nothing in this email is intended to serve as financial advice. Do your own research.