On-The-Chain  -  February 23, 2019 - Q&A with Josh Stark of L4
Livepeer Participate Rate Nears 30%, Bitcoin Mempool Spikes, 1/4 of Uniswap Liquidity is Dai, Inaugural DeFi NYC Event, & Q&A with Josh Stark of L4
Welcome to On-The-Chain, a focused look at the most interesting data, networks, and people pertaining to the chain and crypto economics.
This issue features a Q&A with Josh Stark of L4, as well as details about the inaugural DeFi NYC event coming up this Thursday at the Bryant Park Lounge. 
---
Livepeer Participation Rate Nears 30%
Nearly 30% of the total LPT supply is being bonded by transcoders on the Livepeer network. The participation rate of the network has increased by 0.11% per day over the last 45 days.
Network inflation will increase until LPT bonded hits the target participation rate.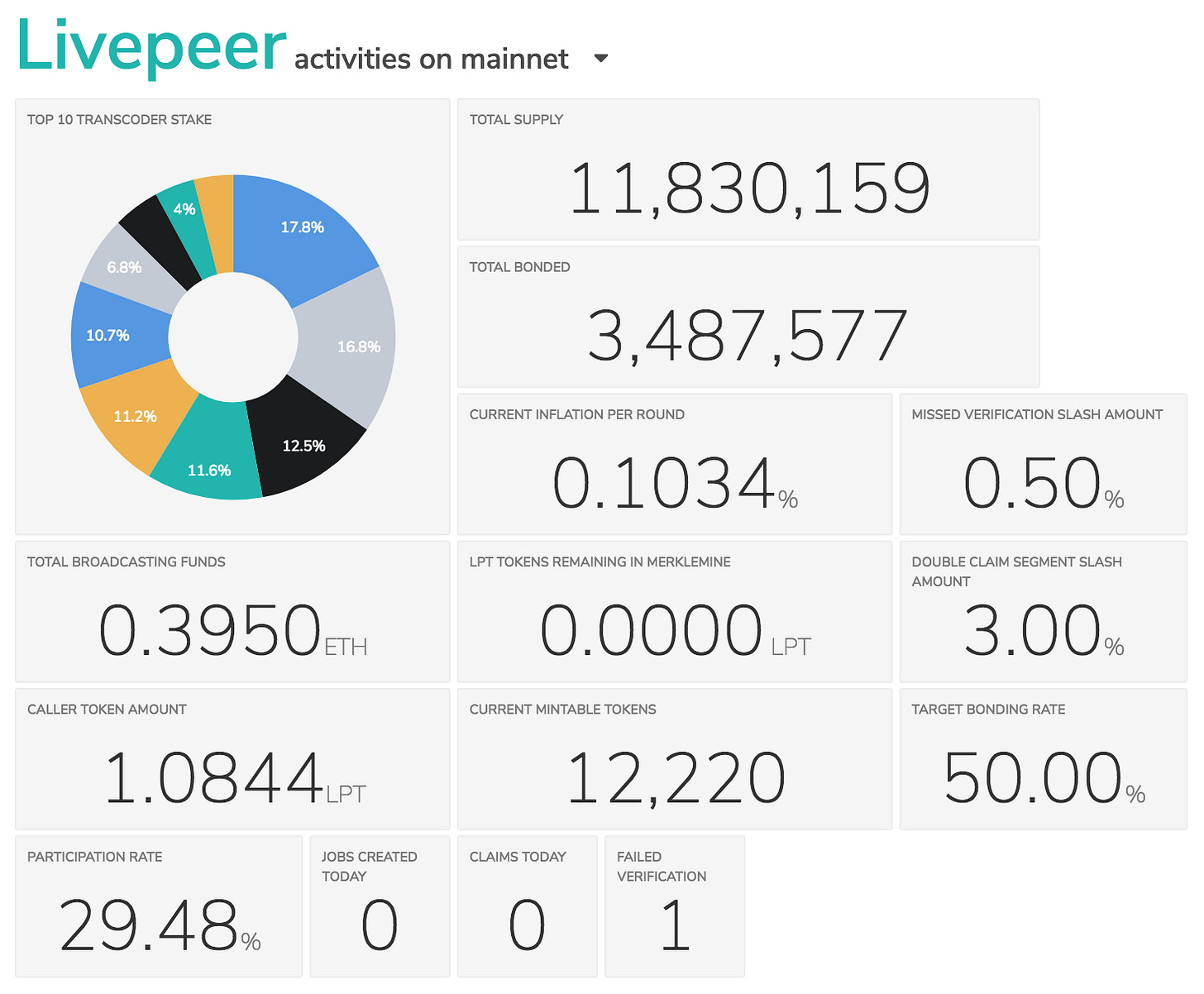 The data above is from https://supermax.cool/livepeer.
The Takeaway: The crypto-economic incentive are working!
---
Bitcoin Mempool Spikes
The Bitcoin mempool recently saw its highest level in the last three months, spiking to 21,000 transactions and 16 MB in size.

The chart above is from https://bitcoinvisuals.com/
The Takeaway: This is a result of increasing transaction volume and full blocks. We will continue to see mempool spikes if blocks stay full.
---
1/4 of Uniswap Liquidity is Dai
Dai currently represents nearly a quarter of the liquidity provided to Uniswap.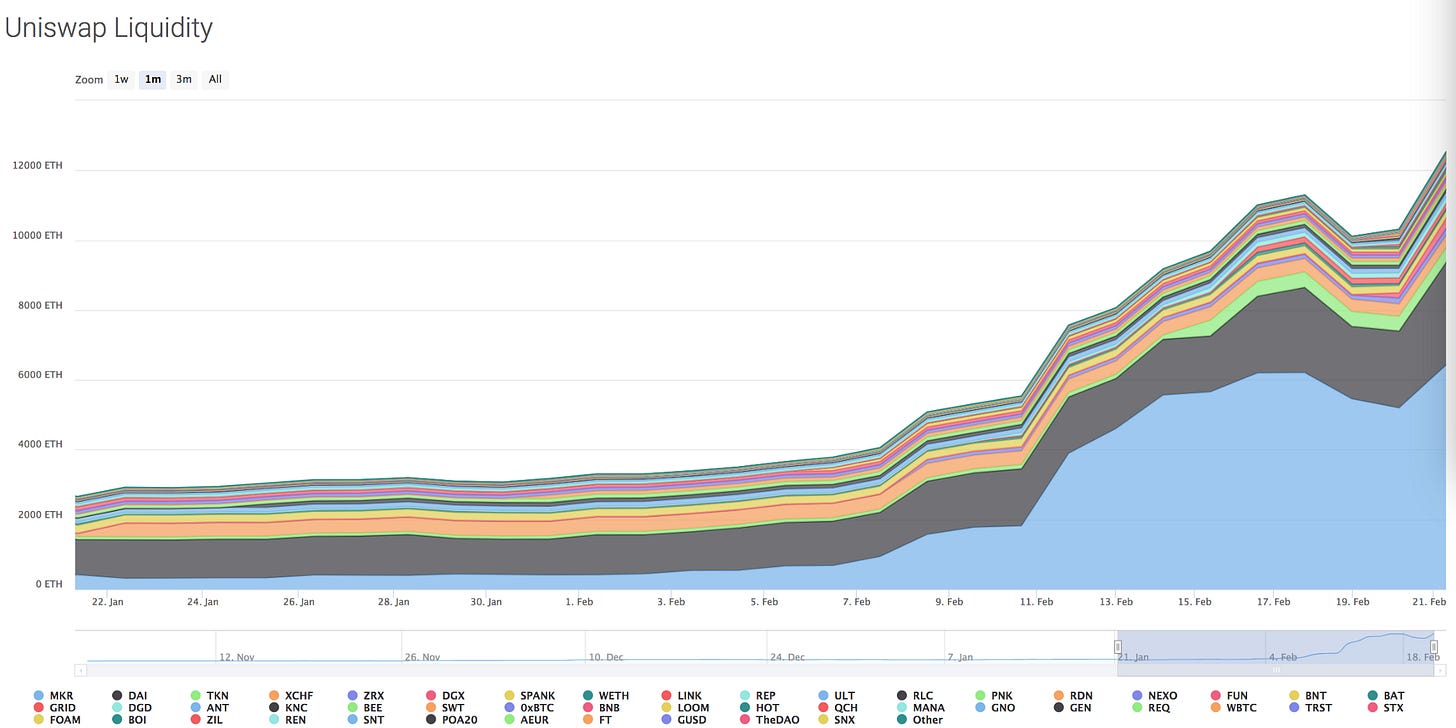 The data above is from https://zumzoom.github.io/analytics/uniswap/.
The Takeway: Uniswap and MakerDAO are natural complements. It will be interesting to see how the two platforms collaborate in the future.
---
Inaugural DeFi NYC Event
Join DeFi NYC, Crypto Briefing, and Wachsman this upcoming Thursday evening at the Bryant Park Lounge at 6:00 PM for an evening full of DeFi.
The "Transitioning from Legacy Finance to Decentralized Finance (DeFi)" panel discussion moderated by Craig Burel of Reciprocal Ventures will feature Tim Ogilvie of Staked, Ric Burton of Balance, Jessica Salomon of MakerDAO, and Hart Lambur of UMA.
Join the Meetup group and register here!
---
Q&A with Josh Stark, Co-founder of L4 Ventures

Josh is a co-founder of L4, a company focused on building critical infrastructure for Ethereum, and ETHGlobal, the world's largest Ethereum hackathon organization. He's known for his writing on Layer 2, cryptoeconomics, and other topics in cryptocurrency.
Q: What are your favorite projects or trends in the Ethereum community?
A: The progress on "open finance" or "DeFi" projects is encouraging. Programmable, permissionless money is what got me into this world, and it's exciting for that vision to make early steps towards reality.
As just one example, InstaDapp is very cool. It's an easy user interface to open up MakerDAO CDPs. In something like 5 clicks you can deposit ETH and take out a loan in DAI. It started as a hackathon project at ETHIndia last August, and as of Feb 2019 has been used to open up 170 CDPs holding >9,000 ETH. A sharp example of the kind of products that are made possible with an open financial system.
A list of favourites wouldn't be complete without mentioning Counterfactual, which is our open source framework to make it easy to build applications that use state channels. Last year, there were several one-off state channel & layer 2 implementations for specific apps. This year, it's going to become radically easier to build a channelized application without building the whole stack yourself thanks to frameworks like Counterfactual.
Q: Which smart contract platform do you think is Ethereum's biggest competitor? Why?
A: I think we over-emphasize competitor risk. Our community tends to be made up of people who believe that the success of cryptocurrencies is inevitable. If you're in that mindset, then it makes sense to focus on competitors: it's a foregone conclusion that the world needs programmable blockchains, the only question left is who will it be? "Don't worry about competitors so much" is pretty classic startup advice, but I think it applies to Ethereum too.
We should worry more about the risk that all smart-contract platforms fail than whether Ethereum is losing its lead to someone else. Right now, every user on-boarded by EOS or Tron is probably on net a good thing for Ethereum. The hard part is getting people to use crypto at all. But once they do, they know how to use a wallet and their assets are fairly portable. Every user brought into crypto by a "competitor" chain is an ideal user for an ethereum-based product, if it's useful to them. I guarantee you there are EOS whales earning interest on Compound.
This doesn't mean we should be complacent. The success of "smart contract platform" as a category isn't guaranteed, and neither is Ethereum's title as the leading platform in that market. We are in very early days, and the things we do now — or don't do — will have compounding effects for decades. But the urgency here is "build things that are useful" and not "beat EOS" or "beat Tezos".
Q: What are you looking out for as ETH 2.0 ramps up?
A: More communication between the research + implementer teams and the broader Ethereum technical community, especially those that are building live products. This has already been happening, but we need much more of it! It's critical for people building on top of Ethereum to understand how their stack will (or won't!) change. And it's critical for the research & implementer teams to get continuous feedback from their users.
Q: What types of businesses do you think benefit the most from smart contracts?
A: Businesses that serve customers who already hold and use cryptocurrency. A lot of early companies focused on trying to use smart-contracts to control real-world assets or property. That's a great long-term vision, but it's not viable today.
But there is now a large enough market of people that hold cryptocurrency and understand how to use it that it's possible to start doing interesting smart-contract things serving only them. MakerDAO and other "Open Finance" protocols are examples of this.
Q: How will Ethereum hit one billion users?
A: Obviously there are many things that might influence this, but here are 3 that are interesting to me right now:
Wallets built into smartphones. Samsung's new S10 has this, and seems easy for other phone manufacturers to try something similar. Could expose tens of millions of new users to the idea of owning crypto.

UX has to improve, but only so much. For users with access to traditional FinTech, crypto will probably always be a bit worse. If people use it, it will be because it lets them do things they can't otherwise do. For users with no access to traditional FinTech, crypto is useful enough for them that they'll get past mediocre UX. I think we're a lot closer to an experience that works for a large number of people than we think.

Stablecoins. If Ethereum remains the blockchain-of-choice for stablecoins like USDC or Dai, Ethereum will gain millions of users as these grow in use. Stablecoins really are a killer app.
---
That concludes the ninth issue of On-The-Chain. Feel free to reach out to me on Twitter. My DMs are always open.
A special thank you to Josh and Edward. 
Nothing in this email is intended to serve as financial advice. Do your own research.