On-The-Chain - July 10, 2019 - Q&A w/ Suji Yan of Dimension and the Anti-996 License
Q&A with Suji Yan, Multi-Collateral Dai (MCD) Collateral Types, Fireside Chat with Joshua Buirski - Decred Asia Pacific Lead, & Substantial Kyber Network Q3 Growth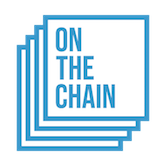 Welcome to On-The-Chain, a focused look at the most interesting data, networks, and people pertaining to the chain and crypto economics.
This issue features a Q&A with Suji Yan, Founder of Dimension.
Suji is actually currently visiting SF and next NYC. To get in touch, join the Maskbook Telegram Group or email suji.yan@sujitech.com.
---
Q&A with Mark Nadal, Founder of Dimension
and Contributor to the Anti-996 License

Q: What inspired you and Katt to create the Anti-996 License?  
A: We didn't initiate the movement -- some anonymous developer create the github repo and the 996.icu website. We mainly helped draft the Anti-996 license.
On March 26, an anonymous programmer created the 996.ICU repository on Github with a newly registered account, and launched the http://996.icu website. Since then, the "996.ICU" movement has made major headlines and caught the attention of programmers and tech-engaged parties around the world. 
The repository features information about working conditions, legal information, a whitelist (Work Life Balance List), and a blacklist for companies. This distributed network of programmers and sympathizers has completed the evidence collection (from media report, local government decisions, etc), submission (using GitHub's pull request function), voting, and decision (using Emoji function in GitHub's comment & pull request) process all on GitHub, which enables them to update the lists very efficiently. 
After the advent of the blacklist and whitelist (955.WLB: Work Life Balance List), GitHub user xushunke proposed a new issue on March 28: Design A Software License of Labor Protection.
*"Create a license, such as MIT License, that can only be used by non-996 companies. In this way, good projects in the future can use the license to prevent 996 companies from using them."*
The drafting of license has aroused my interest. Since I graduated from high school, I started to write article to introduce FOSS in various Chinese media. I will never forget the huge impact of open source licenses and communities, such as Linux and Netscape/Mozilla on Microsoft, the then monopoly company -- open source license and community can exert far more power on the industry than we think. 
On the morning of March 30, I told my wife Katt Gu in detail about the drafting of the Anti 996 License. She acquired her Juris Doctor degree from University of Illinois, Urbana Champaign, with a focus in legislation and regulation in high-tech industry, including blockchain. On the same evening, she spent around seven hours drafting the current version of Anti 996 License. 
Q: How is the Anti-996 Movement a continuation of the Free and Open Source Movement?  
A: As the definition of "open source" by the Open Source Initiative points out, an "open source software" should not "restrict anyone from making use of the program in a specific field of endeavor''. However, there are also some attempts in the past to combine ethical principles with open source license, such as the one drafted by Douglas Crockford, the creator of JSON, which specifically says "the Software shall be used for Good, not Evil". Perhaps, a better name for these kinds of license is the Ethical Software License.
As stated in the README of 996.ICU Repo, "It is a great progress from closed source to open source, and it will also be a great progress from open source to emphasizing labor rights at the same time. What we want is to create an open source license that advocates workers' rights", undoubtedly, although anti 996 license may not fit into the definition of "open source license", and it is in a quite different form from traditional open source licenses such as MIT and GPL, it is an inheritance and embodiment of the spirit of FOSS movement. In countries with seriously overworked cultures, such as China, India and Japan, the general public may care more about labor protection and preventing enterprises from internalizing crazy hours as norm. In Europe and the United States, data protection and privacy may be more of a concern, but the relationship between labor and data is inseparable, which is why an Ethical Software License, if designed and implemented properly, can further integrate these issues and advance worker dignity.
Q: How exactly does blockchain fit into the equation?
A: As discussed above, the Anti-996 movement brought the problem of labor right into public. There are many interesting facts in thing movement are strongly tight with blockchain.
During the movement, programmers start to compile a whitelist (Work Life Balance List), and a blacklist for companies on GitHub. This distributed network of programmers and sympathizers has completed the evidence collection (from media report, local government decisions, etc), submission (using GitHub's pull request function), voting, and decision (using Emoji function in GitHub's comment & pull request) process all on GitHub, which enables them to update the lists very efficiently. This is an early prototype of autonomous organization. Due to limitation on his/her availability, the maintainer of the repository rarely participates in the compiling of lists. Instead, he/she mainly relies on contributions from the community to complete the whole project. 

(Example of company trying to get their names removed from the blacklist.)
The blacklist created some deterrence for companies that do not comply with China's labor laws. Some companies, such as ByteDance, even try to get their names [removed from the blacklist](https://github.com/996icu/996.ICU/pull/24767). However, since the blacklist is monitored and managed by the whole community, if a majority of community members do not agree with removal or do not believe the evidence submitted for proof of innocence, it will only put these companies in a more awkward situation. For example, the community found that some companies are [forging evidence](https://github.com/996icu/996.ICU/pull/25697)) just to get their names off the list.
All the programmers participated in composing the lists actually formed an early stage but very efficient DAO even without any incentive. The 996.ICU GitHub repo now is the second most starred repository on GitHub (more than 24,5000 stars, compared with around 70,000 Stars for Linux), which shows the power of DAO. With more iterations and evolving, and with the help of blockchain, DAO can be more efficient and powerful in organizing people and solving various problems in broader perspectives.
Q: Say there was no Anti-996 Movement and it was out of our hands. What might the future end up looking like? 
A: Personally I'm worried that the future world might be controlled by monopolies and become capitalism technocracy or ruled by big-brother autocracy. It might be too early to worry these right now, but the movement itself brought by anonymous developer is a warning sign of the problems in labors today. 
For the Anti-996 movement (and the corresponding license), it try to protect the right of labors, beginning with the IT industry. 
The Anti-996 License stipulates that companies using software must abide by local labor laws; if they are multinational corporations, they must abide by the stricter labor laws of various countries. In areas and countries where labor laws are not perfect or unenforceable, companies must abide by the core conventions of the International Labor Standard. This is mainly to prevent the so-called "capital colonization" phenomenon.
The specialty of IT/software industry is that it is very easy not only to transfer capital but also to transfer the fruit of labors, that is, the software or the source code, across borders. Traditional light industry, such as cosmetics and food industries, may incur huge logistics costs, compliance cost, tariff, etc. in the process of shipping the products or moving the production line to other countries, but it is difficult to collect tariffs on the import and export of intellectual property (for example, the WTO exempts the import and export of software from tariffs). This is especially the case for IT / software industry. The work product of software companies are mainly in the form of software or source code, whose transfer and replication have almost no cost. Therefore, the executives in those companies would have more incentives and conditions to transfer production to places where costs are lower and regulations are weaker. For multinational companies that are cost-conscious, they would have a strong incentive to hire programmers in places where labor laws are less stringent, while exporting labor outcomes to markets where labor protection is more stringent at almost no cost.
Traditional methods of labor protests are of little use in this case, because the cross-border movement of labor itself will be much more difficult than the movement of capital and fruits of labor such as intellectual property, and if the barriers to software itself are only the languages and cultures of different countries, we can hardly prevent "capital colonization". Even in cases where the products or services are unable to enter a market due to linguistic/cultural difference, these tech giants and the investors behind them will be able to bypass the hurdles, entering the market through other means, such as co-founding a branch with local partners or investing in local start-ups. Maybe big companies will consider setting up "ethics committees" in countries where the laws are more stringent, but if they are only doing investment-related business overseas, for example, they become limited partners of US dollar VCs in China, they will probably not conduct strict compliance audit on the companies they invested. In such way, these multinational companies, as shareholders, won't be held responsible for violations of local laws, and they can reap huge benefit from the global "race to the bottom".
This point is also mentioned in the [open petition letter](https://github.com/MSWorkers/support.996.ICU/) from Microsoft and GitHub employees supporting 996.ICU:
In response to these events, we, the workers of Microsoft and GitHub, support the 996.ICU movement and stand in solidarity with tech workers in China. We know this is a problem that crosses national borders. These same issues permeate across full time and contingent jobs at Microsoft and the industry as a whole. Another reason we must take a stand in solidarity with Chinese workers is that history tells us that multinational companies will pit workers against each other in a race to the bottom as they outsource jobs and take advantage of weak labor standards in the pursuit of profit. We have to come together across national boundaries to ensure just working conditions for everyone around the globe.
Without this movement and people trying to protect the right of labor in a globalized society, the global 'race to the bottom & capital colonization' might become much more severe.
Q: Tell us more about Tessercube and MaskBook!
A: Both Tessercube and Maskbook aim to preserve privacy by empowering the user to achieve the same level of security and freedom on insecure and censored platforms easily. For now, https://maskbook.com is a browser extension and PWA app (coming soon) focus on problems of facebook, and https://tessercube.com is a third party mobile keyboard for encryption and can penetrate all IMs.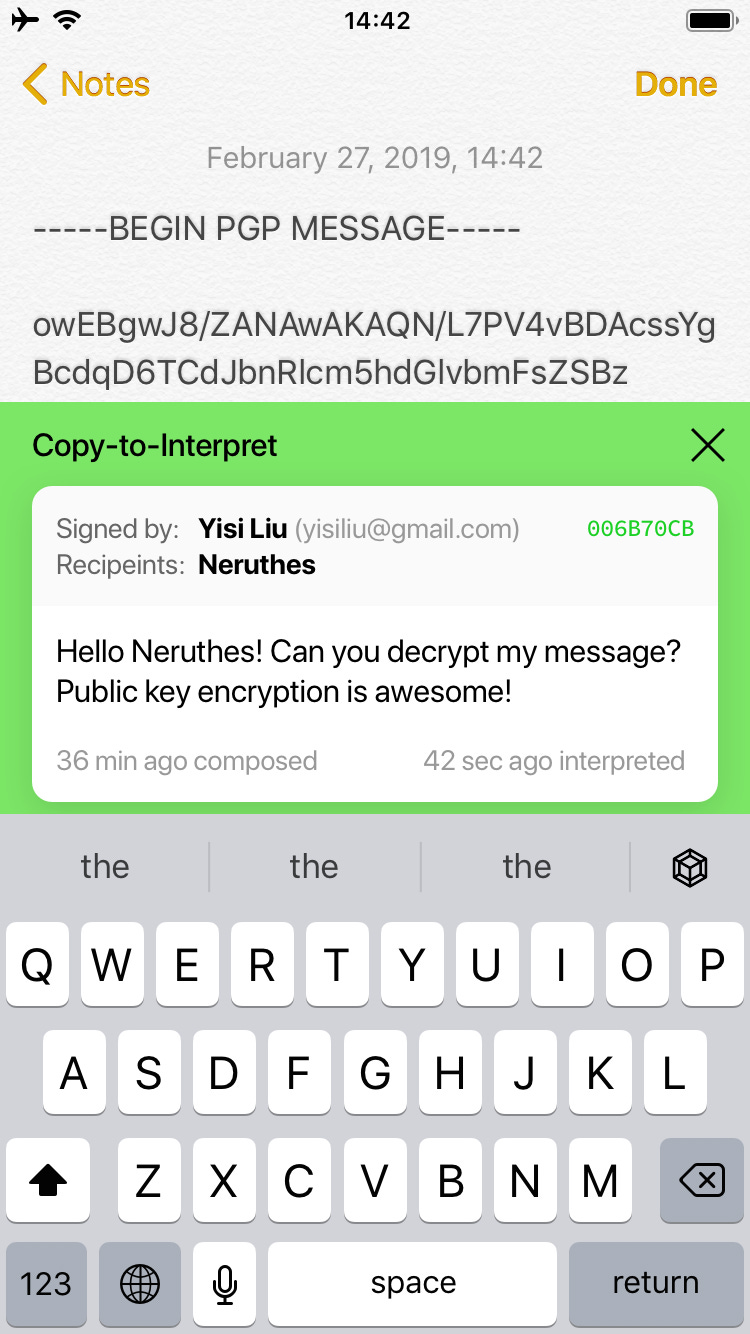 There are many great experiments trying to give the users privacy back. However, these technologies cannot easily integrate with existing dominant services (such as HTTP (in case of Tor/IPFS) or Facebook (in case of Telegram). The majority of internet users still stick with the centralized, easy-to-censor platforms, though many of the users do care about their personal privacy and freedoms on the internet. 
We call the project behind maskbook & Tessercube Dimension (https://dimension.im), and we try to create a toolkit to empower people to control their own data and digital assets, through cryptographic keys and communication protocols. Through this layer, users can turn every internet service secure, fully own their data (by encryption) and communicate with other users easily, while they do not need to leave the current platform and service.
---
Multi-Collateral Dai (MCD) Collateral Types
MakerDAO recently released guidance around seven assets that MKR voters can select the risk team to evaluate first. These crypto assets are Augur (REP), Basic Attention Token (BAT), DigixDAO (DGD), Ether (ETH), Golem (GNT), OmiseGo (OMG), and 0x (ZRX).

The Takeaway: There are currently only a few crypto assets qualified to serve as collateral for MCD. In fact, it is quite obvious that some assets should not serve as collateral for MCD! Additionally, I am excited for assets other than native crypto coins (BTC, ETH, etc.) to serve as collateral for MCD, including tokenized commodities, tokenized real estate, and tokenized in-game items.
---
F
ireside Chat with Joshua Buirski, Decred Asia Pacific Lead
Join Staked and TokenTax for a conversation with Joshua Buirski, Decred Asia Pacific Lead, this Thursday, July 11th at Distributed Global.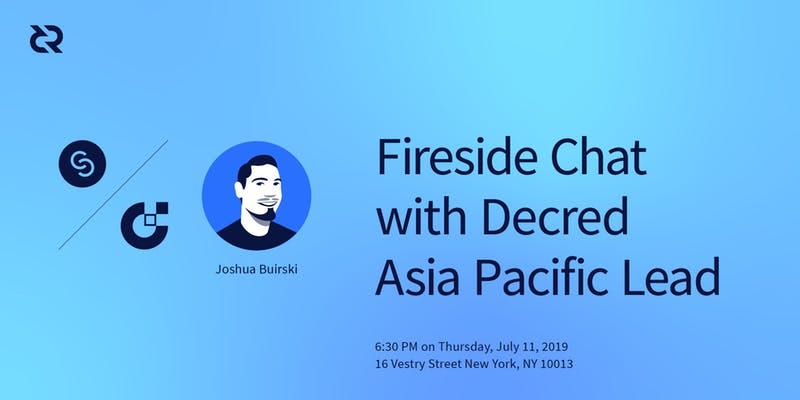 Refreshments will be provided.
Sign up here!
---
Substantial Kyber Network Q3 Growth
Kyber Network recently published some noteworthy numbers in its Kyber Ecosystem Report.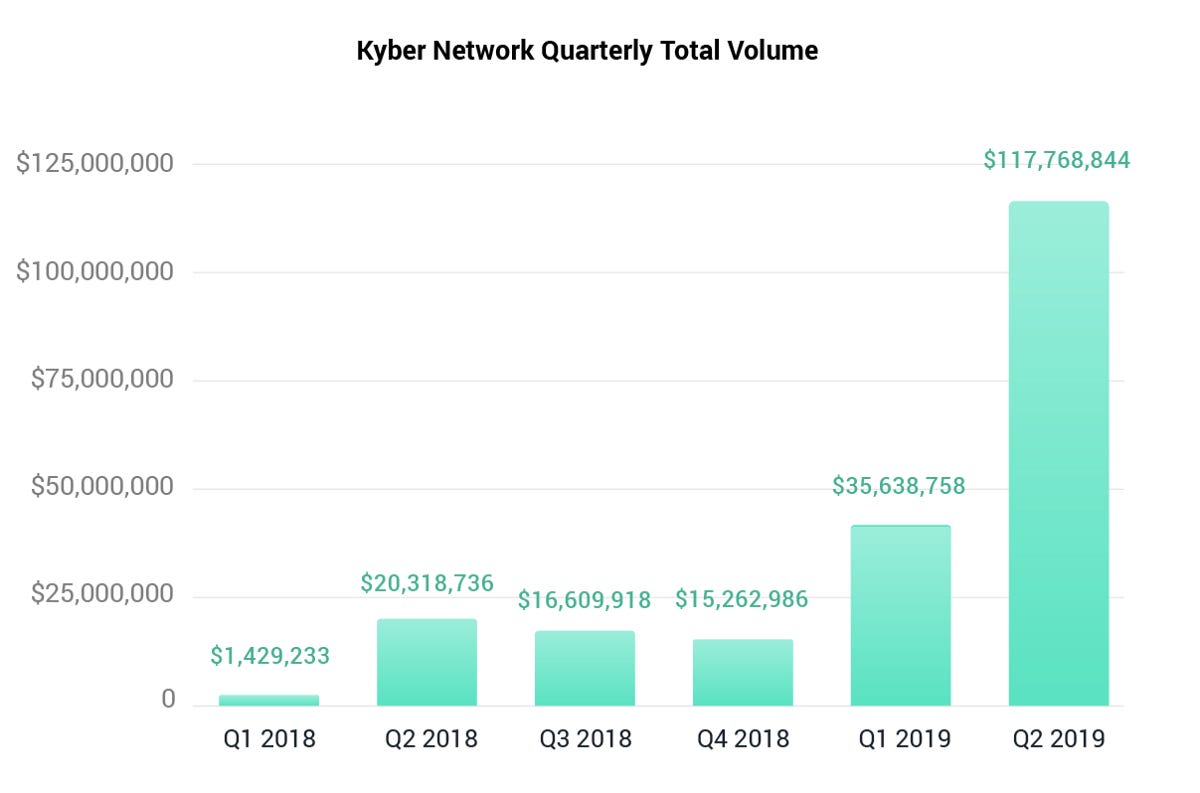 The quarterly total volume and number of quarterly trades on Kyber Network recently saw very meaningful growth, respectively increasing 230.5% and 49.2% quarter over quarter.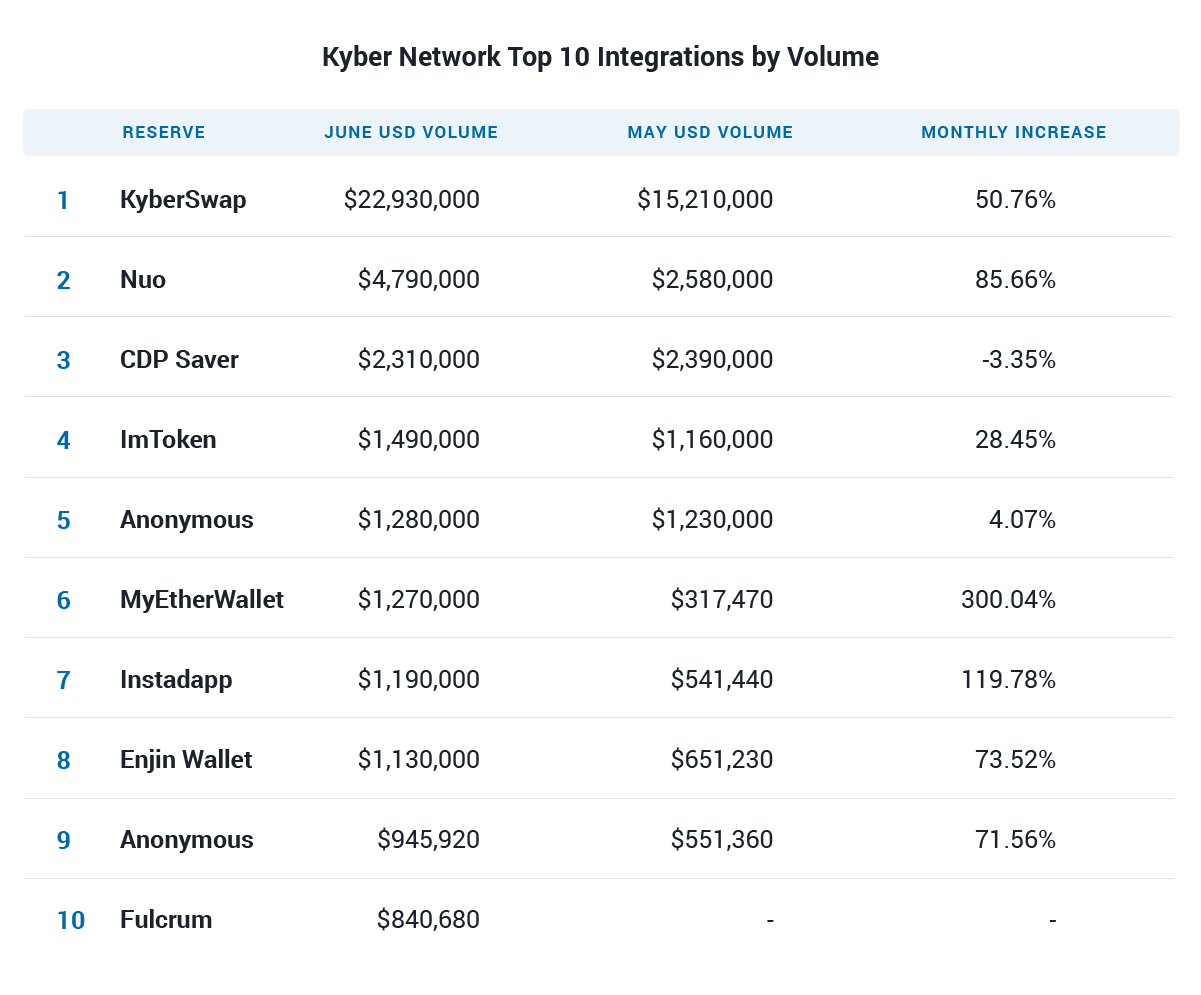 As of June, Kyber Network had eight integrations with more than $1MM USD in monthly volume. Nuo, ImToken, MyEtherWallet, Enjin Wallet, and InstaDApp all saw significant month over month growth. bZx's Fulcrum also launched this quarter.
The Takeaway: Mo' vol, mo' trades.
---
Feel free to reach out to me on Twitter (@ColeGotTweets), Telegram (@colekennelly), WeChat (@colekennelly). Alternatively, find time to connect here.
A special thank you to Suji for the time and Mable for the introduction!
Nothing in this email is intended to serve as financial advice. Do your own research.
Ξ: 0xA81A7e78f7FeC365c9016397e51F58125eE4842b
₿: bc1qa7328fdrww70kwqc3z682ssdeu2asydpfu0dqt